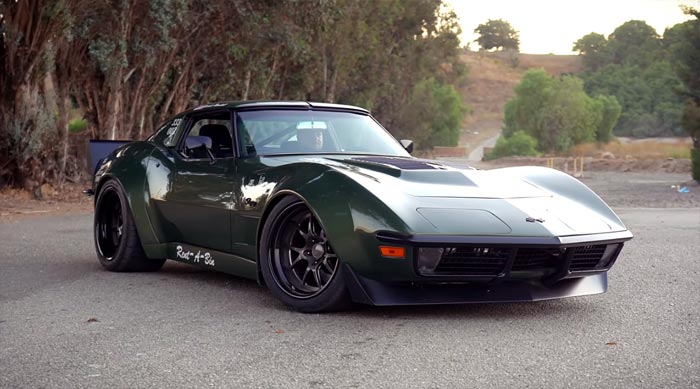 When the C8 Corvette was introduced last summer, it was like a nuclear bomb dropped on the fussy supercar space. A technological tour de force, the 2020 mid-engine C8 is the future of Corvette whether we like it or not.
To those with an automotive version of radiation sickness wandering around with their ears ringing, we say the best antidote to the C8 mushroom cloud is to find and cultivate Corvettes of the last 66 years.
A key factor in the Corvette's transition to a mid-engine configuration was to attract a younger audience to Corvette. The irony is, most younger folk will enter the plastic fantastic hobby via older Corvettes, not Chevrolet new car showrooms.
Commensurately, meet Garrett Randall, a young guy running a bitchin' 1970 Corvette coupe dubbed "Rambo."
A real LT1 car, (easy guys, it had been cut up and autocrossed for years before Randall got it,) it now sports a laundry list of restomod, go-fast goodies. Forgeline/FourSpeed Films brings us the story…
Though this old C3 was originally created by JCG Restorations and Customs out of Southern California, Garrett bought the car and had the shop update it to his specifications.

Running a 450hp LS6 backed by a T56 transmission, the thing rides on VanSteel suspension components and JRI coilovers. Stuffed under the huge fender flares are custom Forgeline rims wrapped in gigantic Bf Goodrich gumballs. Combine all this hardcore hardware and Randall says the car is lightning-fast on an autocross course.
The C3 is a styling masterpiece from Bill Mitchell, David Holls and Harry Haga, and looks as fresh as the day it was introduced in the fall of 1967. Randall sprinkled a liberal dollop of styling MSG on the design by adding the aforementioned flares and modern wheels and tires. The car is sinister to say the least. Although christened "Rambo," think Darth Vader's helmet dipped in Donnybrook green and you get the idea.
We'd like to give a hearty thank-you to Randall and the guys at JCG Restorations for keeping our fiberglass fantasy youthful and stoking the love of Corvettes for generations to come.

Source:
Four Speed Films / YouTube

Related:
[VIDEO] Family Ties: 1968 Corvette Restoration Creates Memories That Will Last a Lifetime
[VIDEO] 1970 Corvette Convertible Restmod Aptly Nicknamed "The Crusher"
1969 Corvette For Sale Spent Entire Life with GM Employee Who Designed the C3 Door Handles