If you're looking for a distinctive Corvette without breaking the bank, you might want to check out this 2007 Corvette with a LOMA GT2 widebody kit.
This matte black on black sixth-generation coupe proves that Corvettes just get better with age, and this one definitely lives up to the name on its license plate – "VILLAIN."
Best of all, you can be the new owner of this customized, supercharged C6 for just $35,000, according to a listing on Facebook Marketplace out of Holland, Michigan.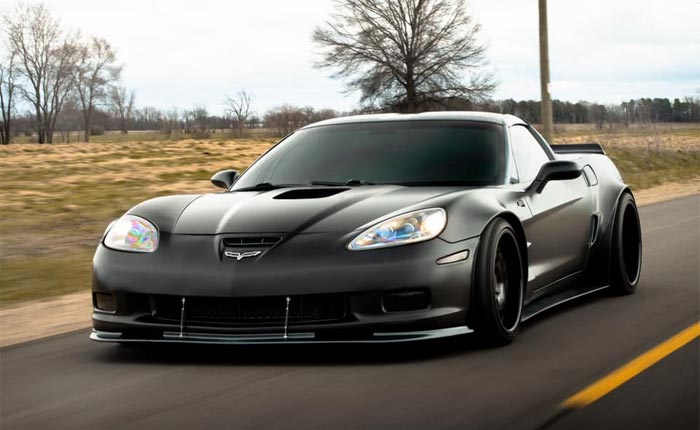 In case you aren't familiar with LOMA, these carbon fiber kits make your base Corvette nearly 5 inches wider than the stock version, and even the already widebody Grand Sport, Z06, and ZR1 will be 3.2 inches wider!
The company boasts that installation is so easy, nine out of 10 customers are doing it by themselves in their garage! The LOMA parts are said to be interchangeable with stock parts and can be changed back later without any body modifications if desired.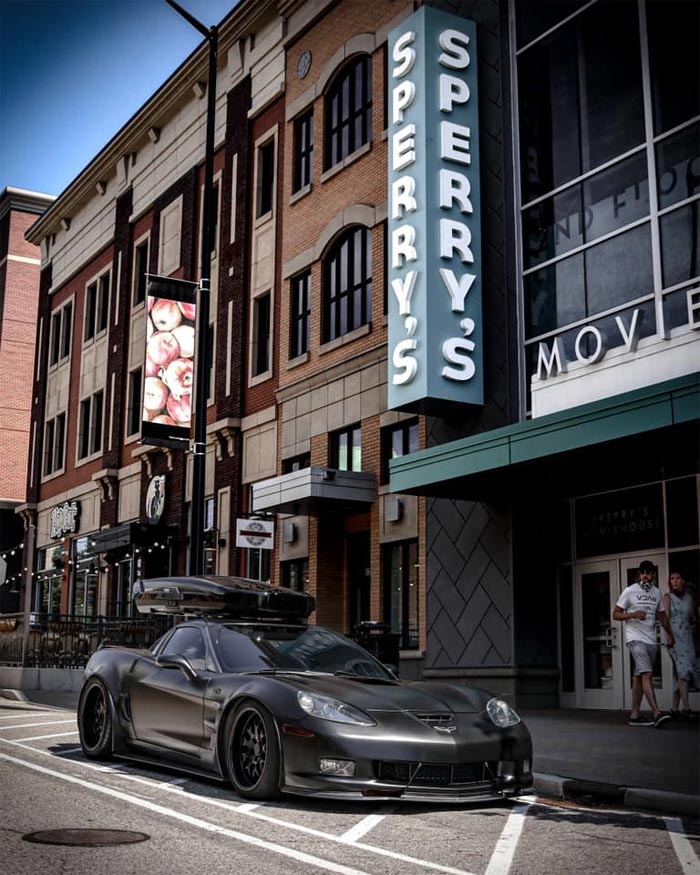 The kit can be installed in one day at a qualified shop and includes one front lip, two side skirts, two front fenders, two rear panels, two LOMA GT2 badges, and installation material for the side skirts.
This particular car isn't all show, though, as it pumps out plenty of go with an A&A supercharger V3TI kit, TSP custom ground blower cam, meth injection, and full straight pipe and longtubes that combine forces to send a total of 715 horsepower to the wheels, according to the listing.
Other custom touches include a sound system with Apple CarPlay, 6×6.5 inch Alpine speakers with two 12-inch JL Audio subs, all run off two amps.
And then there is the "portable" rooftop storage system that features the Thule Motion Alpine XT roof box. It attaches to the car with custom brackets and seasucker suction cups and would be the perfect companion for those long roadtrips or a visit to the local warehouse club.

The car, which has a six-speed manual transmission and some 65,000 miles on the odometer, also features Ioma wheels, 19x20s wrapped in new 345 Michelin Cup 2 tires; switch back LEDs and LED headlights; aftermarket halo tail lights; lowering bolts; hood cutout; and Avery Dennison satin black wrap.
All in all, this seems to be a relative bargain, considering that the supercharger kit itself starts out at $5,650 on the A&A website and we found a LOMA gel-coated body kit online for $6,599, not counting, of course, installation and the body wrap or paint.

Source:
Facebook Marketplace

Related:
Corvettes for Sale: 2017 Corvette Z06 VIN 001 Offered on VetteFinders.com
Corvettes on Craiglist: 2020 2LT Corvette Stingray in Black
Corvettes for Sale: 22K-Mile 2009 Corvette ZR1 for $59,500 on the Corvette Forum