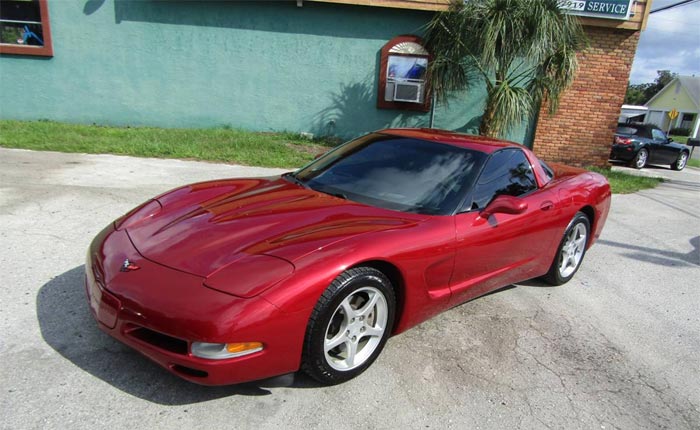 There has been a lot of excitement regarding the new 2021 exterior color Red Mist Metallic which we identified from the beginning as being somewhat of a throwback to the Magnetic Red/Magnetic Red II exteriors offered on the C5 and first-year C6 Corvettes.
So last night I was browsing our local Tampa Bay Craiglist as I like to do and came across a 2004 Corvette Coupe in the beautiful Magnetic Red II. Chevrolet offered eight exterior colors with MagRed II ranking 5th with 3,596 total examples produced on Coupes and Convertibles. The color wasn't offered on the Z06. This Coupe has low miles with just 63,123 showing on the odometer, as well as the desirable 6-speed manual transmission. The car is for sale by a car dealer in Hernando County with a price tag of $19,999.

Here's the description from the Craigslist ad:
Look at this gorgeous Corvette Coupe. This car is in pristine condition! Come with all the right stuff including Both Tops, Bose Sound System, brand new Michelin's, and of course the hard to find 6 Speed Transmission! This car is all original and drives just like a new one!

As noted in the ad, the car is fairly loaded with two-tops (painted and transparent) and the Light Oak interior looks good with no rips in the seats or other flaws that can be ascertained from the photos. On the rear, it appears that a set of aftermarket exhaust tips are showing so perhaps the exhaust system was updated by a previous owner. As it's a Florida car, we see it has window tints applied to the side windows and the glass on the hatch.
The Hagerty Valuation Tool shows us that a #1 "Concours-quality" 2004 Corvette Coupe is valued at $25,550 with #2 "Excellent" being $20,400 and #3 "Good" priced at $16,800. So with a little haggling, the buyer can get behind the wheel and feel pretty good about the price they paid. Not only that, but these models have reached the near bottom of depreciation and so the owner who buys this car and takes good care of it should be able to resell it for a similar price.
This 2004 MagRed II Coupe would make a great first Corvette for someone new to the hobby, or for the experienced owner that wants something fun to drive without needing to bring a banker. You can contact the seller via the ad.

Source:
Tampa Bay Craigslist

Related:
Corvettes on Craigslist: Bloomington Gold Quality 1987 Corvette Has Only 2,450 Original Miles
Corvettes on Craigslist: 2009 Corvette ZR1 with Under 10K Miles for $57,000
Corvettes on Craigslist: Ralph Eckler's Personal 1975 Corvette Hatchback