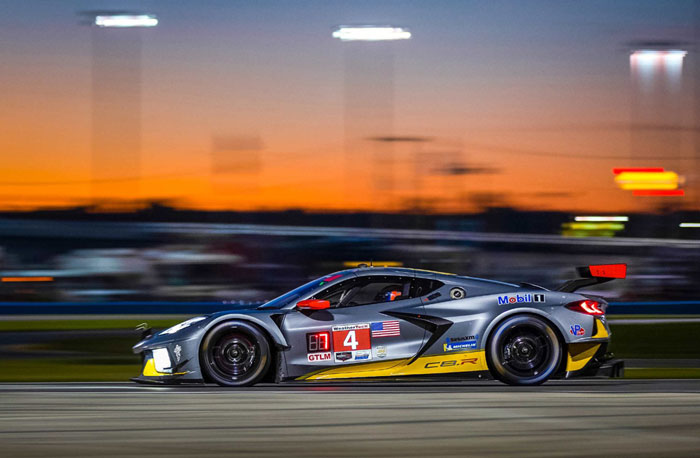 Photo Credit: Richard Prince for Chevy Racing

Corvette Racing returns to the friendly and familiar high-speed confines of Daytona International Speedway next Saturday for the IMSA WeatherTech 240 and if that doesn't make you happy, perhaps these adjustments to the race's Balance of Performance will!
IMSA issued new Balance of Performance (BoP) tables ahead of next weekend's race and compared to where to what we had in January, the changes just might provide the edge for the C8.R to get its first win. Back in January, the C8.R was a brand new car without any actual race history at the track and our BoP was set fairly conservative. Now that we are returning to Daytona just seven months later, officials utilized the race data and have made improvements nearly across the board for the new mid-engine racecars.
The C8.Rs will see a +0.2mm increase in the air restrictor to 44.5mm and the average power delta was increased by 2.0. The rear wing's angle will see changes and the Corvettes will get a 3-liter increase in fuel capacity which brings it up to 97.0 liters.
The BMWs were very fast in January and the No.24 won the GTLM Class. Race officials took that into account and have given the BMW M8s an additional 15kg of weight, decreased the average power delta by -1.4, and decreased the fuel capacity by 4-liters to 86-liters total. The BMWs also will see small reductions to their turbo boost ratios.
Ferrari's 488 returns for the WeatherTech 240 and their average power delta was increased by 10.4 while also received a 2-liter fuel capacity increase to 89-liters, and they have been granted small increases across the turbo boost tables.
IMSA made no changes in the Porsche 911 RSR.

Corvette Racing's No. 3 C8.R ran a flawless race at Daytona in January and finished 4th in class. The No. 4 C8.R encountered an engine oil leak and spent some considerable time in the garage before returning to action. It would finish 7th in class.
Qualifying for the WeatherTech 240 will be held on Saturday, July 4th beginning at 1:55 pm ET and you can watch it live at IMSA.com. The green flag waves at 6:05 pm ET and the race will be shown live on NBCSN.

Source:
IMSA

Related:
Corvette Racing at Daytona: Pre-Race Press Conference
IMSA's Return to Racing on July 4th at Daytona Will Have Fans…But There's a Catch
Porsche to Pull Out of the IMSA WeatherTech Series at the End of 2020