This pre-production 2020 Corvette offers an insight into the types of quality control checks that workers at the Bowling Green Assembly Plant are examining.
The owner of the car, Brandon Martin, posted on Facebook about the QC sheets he found in the glovebox of his Stingray, according to a story on AutoEvolution.comautoevolution.com.
We weren't able to find out how Martin feels overall about his new Stingray but we did see the three pages of items apparently to be checked at the factory that he uncovered.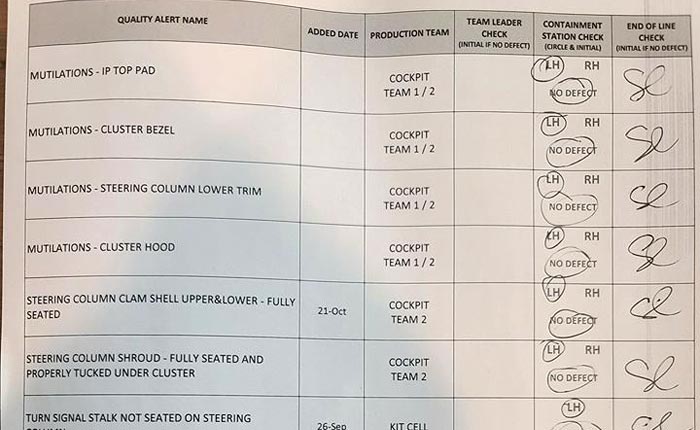 The first seven items on the list for Martin's car were signed off as having "No Defect," but sound like they belong in a horror movie, including Mutilations – IP Top Pad, Mutilations – Cluster Bezel, Mutilations – Steering Column Lower Trim, Mutilations – Cluster Hood, Steering Column Clam Shell Upper & Lower – Fully Seated, Steering Column Shroud – Fully Seated and Properly Tucked Under Cluster, and Turn Signal Stalk Not Seated on Steering Columns.
The remaining 33 items on the pages weren't marked one way or another, so we don't know exactly what that means. Those items included things like:
Door Weatherseals – Birds Beak Retainers Visible
Emergency Release Handle Not Routed Through Carpet
Seatback Garnish to Quarter Garnish Flushness – Seatback Not Fully Seated
Halo Garnish to Quarter Garnish Flushness – Halo Not Fully Seated
Upper to Lower B-Pilar Garnish (Flush/Offset)
Rear Tub Carpet (Not Layered Correctly/Gaps)
Side Airbag Cover Not Fully Seated/Not Fully Seated
Lower B-Pilar Garnish Trim Mutilations
Check Line Gromet Not Seated/Puckered
A-Pilar Lower Weatherseal Out of Position – F/R Tree Retainer Not Installed (Bent Over)
B-Pilar Lower Weatherseal Out of Position – Seal Not Tucked Correctly
Rear Mudflap Gap to Fascia
Mutilations in Coves of Door Ring
B-Pilar Duck-Bill Rolled Under Side Rail Seal
B-Pilar Weatherseal Not Tucked Under B-Pilar Applique
Mirror Boot Seal Rolled Under Glass
Mutilations on Door Belt Moldings
Seatbelt Pretensioner Cover Mis-Installed or Shy
Hood Bumpers Shy
End Caps Misinstalled – Gap to IP
Sunvisor Bezels Not Fully Seated (Or Shy)
Lower Corner of Door Pad Not Fully Seated
Front Wheelhouse Liner Drooping
Speaker Wing Alignment
Emblem Side to Side Alignment
Rear Tow Hook Door Not Seated
Front Tow Hook Door Not Seated
Quarter Panel Catwall Cracks
Shipping Cap Left on Engine
Wire Harness Missing Push Pin Clip
Engine Harness Channel Not Seated
Lower CRFM Hose Rolled Underneath Hose Clamp
Based on the scrutiny the cars are supposed to receive from Quality Control, we're surprised some of the cars left the factory in the condition they did, with misaligned stitching on the instrument panel, for example, or the paint chips in the edge of the door caused by a screw being too long.
When you think about the thousands of parts that go into making a car like the Corvette, it's amazing how well it all comes together in the end. Let's hope this QC checklist leads to the kind of quality we're all hoping to see from the new mid-engine Stingrays.

Source:
AutoEvolution.com

Related:
GM's USA Manufacturing Chief: GM Could See U.S. Production Back to Normal in 4 Weeks
Corvette Assembly Plant to Commence Gradual Restart Beginning May 26th
Chevrolet to Build Even More 2020 Corvettes Upon Return to Manufacturing