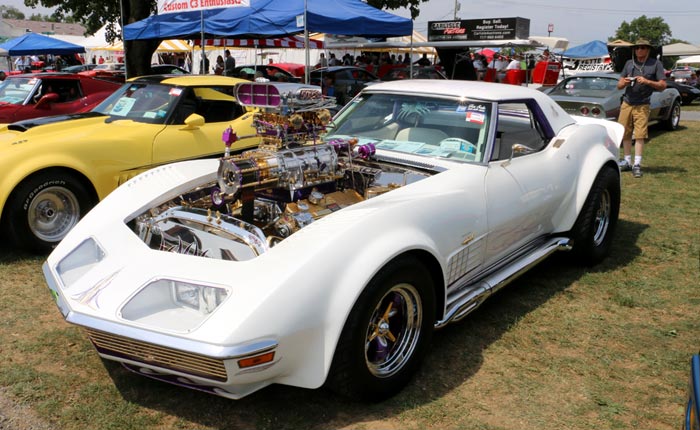 For those of you who have attended Corvettes at Carlisle over the last few years, this custom 1972 Corvette needs no introduction. And now after 38 years of ownership, Joe Barra is putting his prized Corvette up for sale at VetteFinders.com
Joe describes his 1972 Corvette as a piece of "rolling art with a lot of horsepower and a nasty attitude," and it's hard not to argue with that description.
The Pearl White Stingray has pink and "purple-pearl" ghost flames with gold flake used throughout and it features a number of custom touches including integrated headlights, a gilded front grill, and backup lights from a 1969 Camaro.
But what really grabs your attention is the huge custom 502 cubic inch motor that makes 703 horsepower. The motor is equipped with polished Edelbrock heads and a full-roller set up that includes two 775 CFM Demon blower carbs. The engine is so tall that it looks nearly equal to the Convertible's roofline with the auxiliary hardtop attached.

That engine and the compartment it resides in is its own piece of artwork with heavy use of polished billet and stainless steel used throughout. The motor features a number of matching purple and gold accents and all gold plating is done in 24k.
The Stingray's Turbo 400 manual transmission also received the polished treatment. To put all that horsepower to use, Joe has a 355 rear end with the power flowing to the huge 29x15x15 rear tires. Despite their width, the car hasn't been tubbed to receive the rubber.

With all that power, the Corvette remains very streetable and Joe says it's a blast to drive. We've seen the car in action a number of times at Carlisle and it's always one of the stars during the annual downtown Carlisle parade as that beautiful big-block exhaust reverberates off the buildings along the parade route.
Joe provides a video where you can hear the car running, but seeing it in person is the only way you can soak in all the details. The 1972 Corvette is listed for sale with a price of $125,000 but reasonable offers will be considered. For more info on this "rolling piece of art with a nasty attitude," jump over to our sister website at VetteFinders.com for the full classified ad and for details on contacting Joe directly.

Source:
VetteFinders.com

Related:
Corvettes on Craigslist: Original 1969 Corvette with 427/390 V8 Engine
Corvette for Sale: Immaculate 1978 IMSA SuperVette Restored to Concours Condition
Mecum Offering a Pair of 1969 L88 Corvettes at Glendale Auction