One of the most powerful IMSA Corvette race cars of the late '70s and early '80s has been painstakingly restored to Concours condition by a California company named Canepa.
And now this 1977 IMSA "SuperVette" is up for sale, with no price listed on Canepa's website, but obviously it will take a lot of money to buy this piece of Corvette history.
Canepa calls it "the most powerful and brutal racing Corvette ever designed." One of only two tube frame Corvette chassis built (by Charlie Selix and Gary Pratt – later of Pratt and Miller), the car featured an unforgettable design by Bob Riley.

With an aluminum big-block V8 engine that produced more than 750 horsepower and 800 ft-lb of torque, the car was originally raced by John Paul Sr. of JLP Racing in 1978. Paul had been racing Porsche Carrerras for several seasons and was looking to upgrade in a major way when he bought the second tube frame Corvette from the Protofab team after a discussion with John Greenwood about the potential of the Corvette package. JLP Racing picked up the chassis in Michigan and assembled the car at their home base in Lawrenceville, Ga. Hoping to reduce drag and increase top speed, JLP built the car with a narrower track and more aerodynamic bodywork created by John Greenwood's team.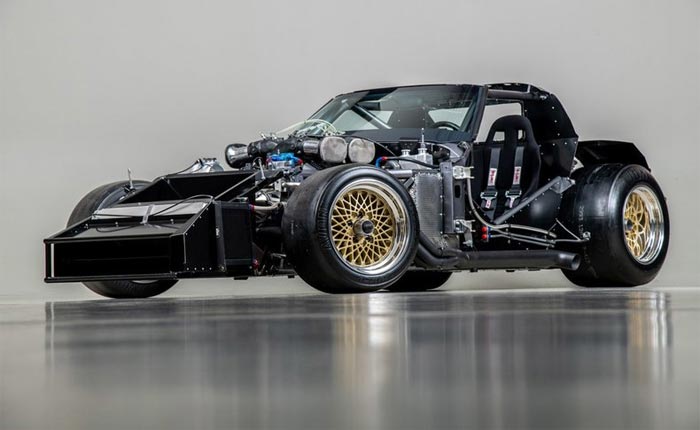 The engine came from Don Nichols of Shadow Racing, and its tremendous horsepower production made it a constant threat on the race track. Paul raced the car for only one season, racking up two podiums and three top five finishes, including a second overall at Hallett.
The next owners were Tico Almeida and Rene Rodriguez, who raced the car once in 1980. John Greenwood then drove the car in the 1981 Daytona 24 Hours but had to drop out because of engine failure. The 1982 IMSA season yielded much better results, with the car finishing first in GTO and fifth overall at Road Atlanta and taking two second-place and one third-place GTO finishes in other races that season.

The car was then retired and went through several collectors' hands before winding up at Canepa, which decided to go all out on the restoration to its IMSA-specs of 1978.
That meant carefully removing and storing away the blue fiberglass bodywork as the mechanical restoration was done, including removing every component from the chrome-moly chassis and replating or repainting parts and fabricating mechanical components, as necessary. All mechanical systems were either rebuilt, refinished, or replaced to be in better-than-new condition, according to Canepa. That included the rebuilding of the 500 cubic inch V8 engine by Ed Pink Racing Engines, as well as restoration of the suspension and brake systems, which were taken apart, crack checked, X-rayed, refinished, and brought back to the IMSA-spec of 1978.

Canepa points out that this concours-level restoration meant nothing was left untouched. After the tube-frame chassis had been stripped of all its parts, for example, the paint was stripped off the entire chassis and body work, with any parts needing attention taken care of, before heading to the body shop. After countless hours sanding and prepping the chrome-moly tubing for its signature grey metallic paint, the long and swooping blue body work received new bright blue paint. Once the frame and body were done, Canepa's Motorsport division reassembled the car over a period of several months.
What do you think this car is worth today? It's eligible to race in historic IMSA events, by the way.

Source:
Canepa.com via stevespeedza.blogspot.com

Related:
[VIDEO] Watch this Vintage Corvette Racer Pass 12 Cars on Opening Lap of Rolex Pre-Reunion at Monterey
Corvettes on eBay: Vintage 1964 Corvette Racer
Corvettes on eBay: Vintage 1955 Corvette Racer