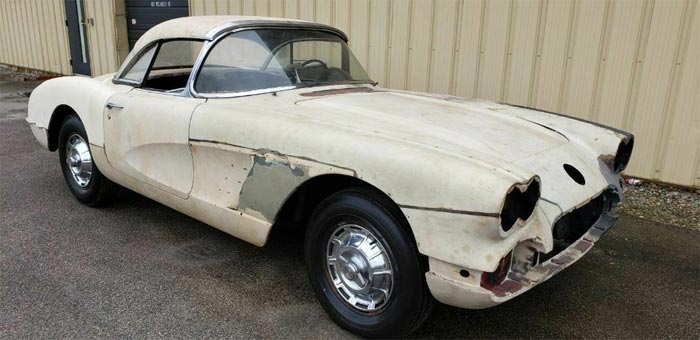 The '60 Corvette is 60 years old this year.
Here's an opportunity to get a super rare classic Corvette convertible that appears to be well on its way back from the grave, thanks to a frame-off restoration that has already started.
This car is one of just 512 Corvettes that left the St. Louis factory that year with a power convertible top (out of the 10,261 produced). It's not as fancy a setup as the 2020 hardtop convertible that will be hitting the streets in a few weeks, but it's sure to get a lot of attention at cruise-ins and car shows. How well the top on the '60 still works isn't revealed, so some more investigation will be necessary.

The current owner has been in possession of the car for more than 30 years and says he's throwing in "a ton" of new and NOS parts to finish what he's started.
The car is up for sale on eBay at the Buy It Now price of $39,950, with a starting bid of $31,500. So far, no one has placed a bid, but action continues through Monday at 3:42 p.m.

The body appears to have undergone some fiberglass work and might be nearly ready for a fresh coat of paint. The only photos of the interior shows the gauges on the instrument panel and the radio and clock on the center stack, so we imagine new seats and carpet will likely need to be installed. We're hoping those might be included in the new and NOS parts that are included with the car.
The restored undercarriage of the car looks brand new in one of the photos, and we're also told that the matching numbers engine has been rebuilt, along with the 4-speed transmission and rear end.

Besides the power top, the car also comes with power windows and an auxiliary hardtop.
So what's your take on this rare '60?

Do you agree with the current owner that this is a "really cool" Corvette and "a chance to buy a time capsule at a very reasonable price" or do you think it might just be easier on your wallet to pass this one up?

Source:
eBay

Related:
Are These Carbon Fiber C8 Corvette Wheels Destined for the Z06? If So, Why Are They on eBay?
Corvettes on eBay: 1958 Corvette Fuelie Basement Find
Corvettes on eBay: Black 2020 Corvette Stingray Priced at $119,999