The average American keeps their new car for seven years, and that number continues to rise, perhaps because of the increased reliability – and price – of vehicles over the years.
However, there are some cars, like the Corvette, that owners are more likely to keep for longer. But which cars are most likely to remain one-owner cars for double that seven-year average?
To find out, iSeeCars.com analyzed more than 350,000 used cars from model years 1981-2004 sold in 2019.
The Corvette ended up sixth in their Ranking of Sports Cars Kept for 15 Years or Longer. (We wonder if that ranking will go down next year if a lot of current Corvette owners trade up for a C8.)
The survey found that 6.8% (or 1.2x compared to sports car average) of 15+ year old Corvettes were still owned by their original buyers, while another Chevy product, the Camaro, also did well, ranking third at 7.1%, 1.3x. Others in the top 9 were: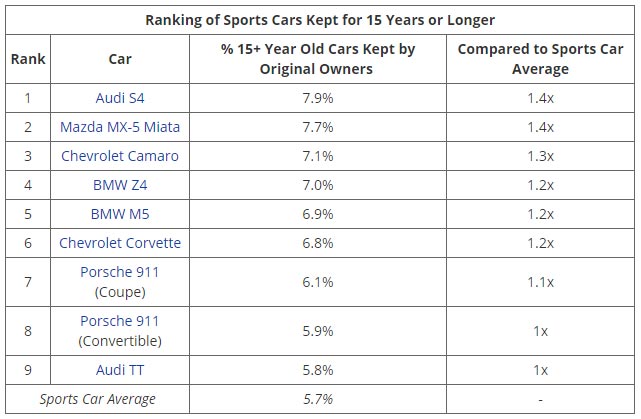 For each model, the percentage of cars sold by the original owner was mathematically modeled ("original owner" cars were bought as new by the owner). The models were then ranked by the original-owner percentage, excluding models with low sample size, heavy-duty trucks and work vans, and models no longer in production as of the 2019 or 2020 model year.
Overall key findings included:
The top 15 are exclusively Japanese models, with Toyota dominating the list with 10 models and Honda with 4.
While SUVs have the most vehicles on the list with 7, the list includes a mix of vehicle types, including pickups, sedans, minivans, and a hybrid.
In the study's brand analysis, Toyota took the top spot, followed by Subaru in second and Honda in third.
iSeeCars.com is a car search engine that strives to help shoppers find the best car deals by providing key insights and valuable resources, like the iSeeCars VIN check reports. The company claims to have saved users more than $206 million so far by applying big data analytics powered by more than 25 billion (and growing) data points and using proprietary algorithms to objectively analyze, score, and rank millions of new cars and used cars.

Source:
iSeeCars.com

Related:
STUDY: Chevrolet Corvette Ranks Second in Vehicles That Owners Keep the Longest
STUDY: The Corvette Convertible Leads Top 10 List of Least-Driven Cars
STUDY: Corvette Ranks Third Among Sports Cars Given Up Within First Year of Ownership