Last week we got some great news regarding the High Wing! Corvette buyers going through the NCMs R8C Museum Delivery can now order the wing and have it installed as part of the PDI process prior to taking delivery.
I am still on the fence regarding the high wing options although I do appreciate the fact that Chevrolet is providing multiple options back there. So whenever new photos of the high wing surface, we like to move in for a closer look.
We have photos to share of a Torch Red High Winged Corvette Stingray with Silver full-length racing stripes that flow down the center of the car. The car was spotted both on the road as well as a private location.
Several photos come from Corvette Forum member "05dsom" while others come from a CorvetteBlogger reader at the event who wishes to remain in the background. So thanks again for sharing these photos showing what our friend "Corvette_Nut" calls a "high-winged unicorn sighting".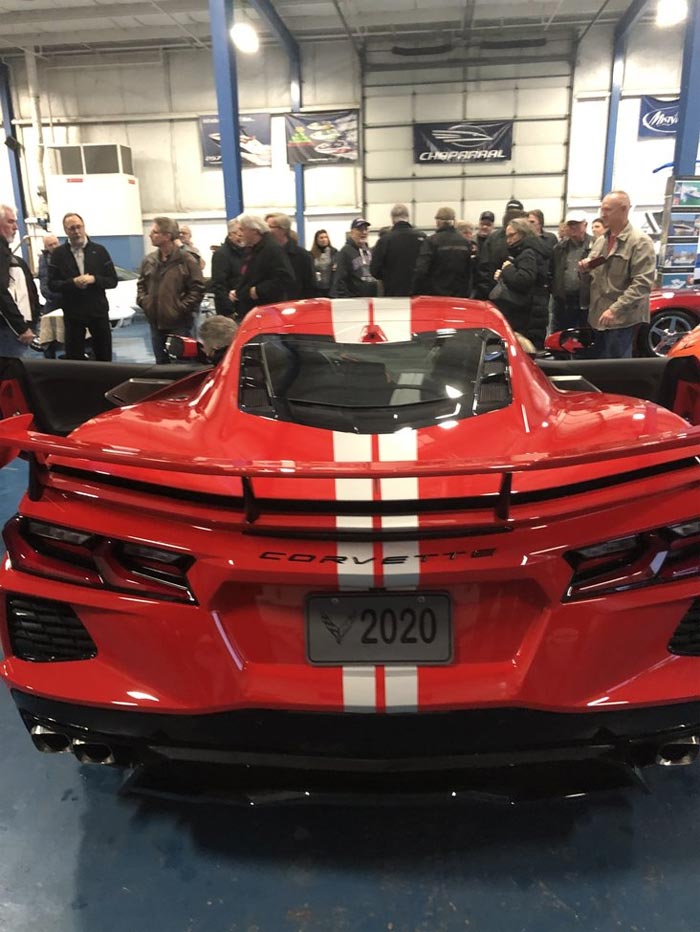 Based on the Michigan license plate, we previously saw this same car as it visited the GM Automotive Service Education Program (GM ASEP) in Detroit for a class photo.
With more photos of the 2020 Corvette Stingray with the high wing now out, does your opinion for the high wing vs the regular Z51 wing change at all? Let us know in the comments below:

Source:
Corvette Forum MidEngineCorvetteForum.com

Related:
The Corvette Museum Will Now Install the High Wing and Ground Effects During Museum Deliveries
[PIC] High Wing and Full Length Racing Stripes Decorate this 2020 Corvette Stingray
[SPIED] 2020 Corvette Stingray's High Wing Seen in Public for First Time