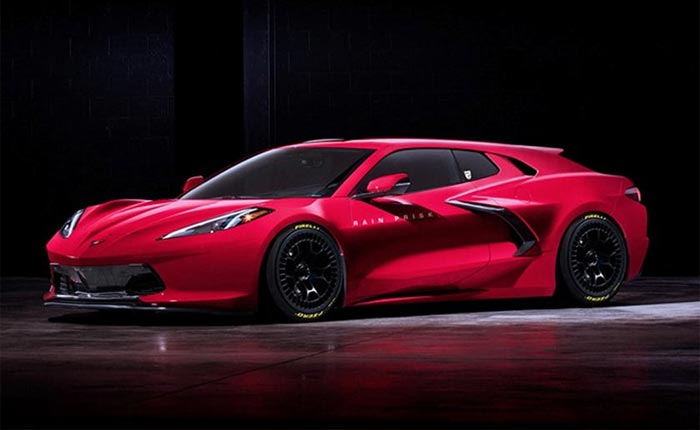 Photo Credits: Rain Prisk

The first "real" C8 Corvette isn't even on the streets yet, and already variants of the new Stingray are already hitting the drawing boards.
Reference this shooting brake design by the talented Rain Prisk.
Whether you like the finished product or not, if you're into graphic design, this five-minute video that details how Prisk came up with his design using Photoshop is well worth a view.
You may remember that aftermarket tuner and fabricator Callaway came up with a shooting brake edition of the C7 known as the Aerowagon. We wouldn't be surprised if Callaway gave it a try with the C8.
While some questions have come up about how such a change would affect access to the engine bay and storage space in the rear, it seems to us that might not be such a big problem. With the safety technology such as blind spot monitors and the like debuting on the C8, rearward visibility doesn't seem like it would be any worse than a normal C8. One problem we see is that the beautiful LT2 engine would be covered up with a shooting brake.

We're not sure how many Aerowagons wound up being sold for the C7, but it's probably not nearly enough to make it cost effective for GM to take a similar plunge on the C8 on its own.
And we're not sure we would want them to, anyway. While fascinating to watch how the shooting brake C8 was created from a purely technical Photoshop perspective, we think the shooting brake design winds up making the new Stingray look too much like a "family mobile" – which definitely isn't what GM is shooting for with its bold mid-engine C8.
After all, we just heard this week that the designers were tasked with creating a C8 that would inspire 10-year-olds the way the '63 split window or the '68 Stingray did for others of us decades ago. Not sure if a "minivan Corvette" is the ticket to do that.

Source:
carbuzz.com

Related:
Quick Date: The Callaway SC757 AeroWagen
C7 Callaway AeroWagen to Debut at the Corvette Museum Bash
[VIDEO] Regular Car Reviews: The Callaway SC757 Corvette Z06 AeroWagen