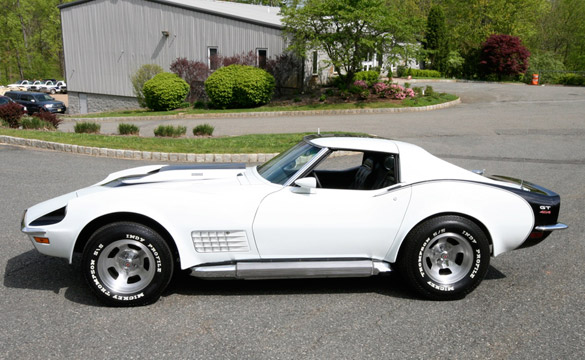 Joel Rosen's east coast-based Motion Performance Speed Shop was legendary for building unbeatable muscle cars in the Sixties and seventies. Teaming up with Baldwin Chevrolet, customers could order a Corvette which would be torn down and rebuilt into an 11.5 second drag car, complete with factory warranty.
One the creations of Rosen was the Phase III GT which made its debut at the International Auto Show in New York City in April, 1969. Motion Performance would build just 12 of the 500+ horsepower grand touring Corvettes with the last one leaving the shop in 1971. That last Phase III GT Corvette was recently purchased from the family of the original owner and has been restored back to original condition and will be displayed at the Muscle Car & Corvette Nationals in November.
Martyn Schoor worked with Joel Rosen from 1967 to 1974 and documented his experience in the book Motion Performance: Tales of a Muscle Car Builder. He provided the following recap of the final Baldwin-Motion Phase III GT Corvette.
On June 3, 1971, Dr. Henry Rollings took delivery of his air-conditioned, 500+ horsepower, 1971 Phase III GT from Joel Rosen at Motion Performance in Baldwin, New York. Power was supplied by a blueprinted and balanced 454 LS6 big block built to LS7 specifications and fitted with a GM high-performance hydraulic cam, open-chamber L88/ZL1 aluminum heads, headers and a Holley four-barrel. Backing up the potent Phase III engine: A massaged M40 Turbo Hydramatic, Hone overdrive and a 4.88 Posi rear.
Creature comforts include a custom button-tufted interior and stereo system and numerous power options from the factory. Thanks to the fastback rear window, there's storage area for luggage behind the bucket seats.
Dr. Rollings paid his bill ($16,283.00), hopped into the GT's plush interior and drove home to Savannah, GA! Between 1971 and 1989, the colorful Cardiologist who owned and piloted vintage World War II aircraft used his Phase III GT for making house calls, towing his Jaguar E-Type SCCA racecars and high-speed touring. He put more than 31,000 trouble-free miles on his unique Corvette Supercar. In 1989 he gifted his GT to his daughter and son-in-law, Ellen and Don Glasser. Dr. Rollings passed away in 2003.
"Dr. Rollings owned imported exotics, raced sports cars and flew restored Warbirds. Once he took a test ride in a 1970 GT that we had just finished for a customer, he was hooked," said Joel "Mr. Motion" Rosen.
Documented by Joel Rosen for the Glassers in 2003 and again for Adam Tuckman in 2008, it is the last built and most highly optioned Phase III GT. Other than being repainted in the 1980s, it is the most original GT known.
Dr. Rollings' GT has been restored to exactly how Motion built it in 1971 by John Waleck, Artisan Coach Works, Hopatcong, NJ, who restored Joel Rosen's yellow Phase III GT now owned by Dan McMichael. Gary "The Local Brush" Kupfer originally striped and trimmed Dr. Rollings' GT in 1971 applied the finishing touches (black Phase III stripes) to the GT in 2010.
The final Baldwin-Motion Phase III GT Corvette will make its public debut at the MUSCLE CAR & CORVETTE NATIONALS in Chicago, IL. on November 20-21, 2010.
About the Author:
Martyn Schorr has been involved in the high-performance automotive industry since the mid-1950s. In addition to his PR time with Joel Rosen at Motion Performance, Schorr was a magazine editor for titles including VETTE, Chevy Action and Hi-Performance Cars. Currently you can find him writing for his automotive blog, Car Guy Chronicles in Sarasota, Florida.

Source:
Martyn L. Schorr – PMPR, Inc.

Related:
eBay Find of the Day: 1972 Baldwin Motion Moray GT Corvette