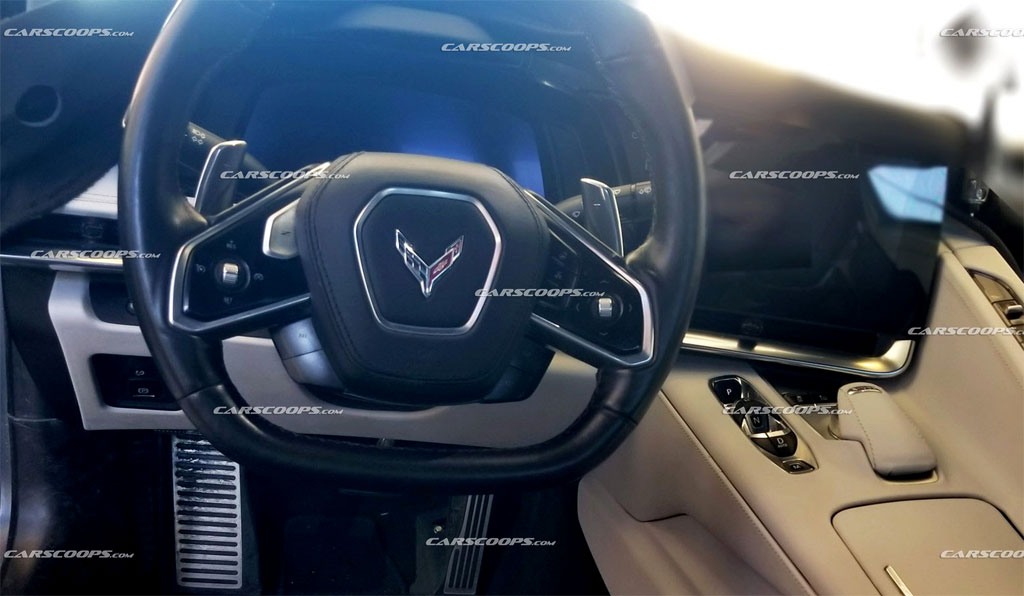 Our friends at Carscoops have received a lot of mileage out of their interior spy pics of the C8 Mid-Engine Corvette. They released their first photos of the 2020 Corvette interior back in January where we were given just a glimpse of the cockpit that includes a new sloping center divider holding the row of climate control buttons. In March, they released another batch of interior photos that concentrated on the seats.
Now, as the world readies for the C8 Corvette's reveal next Thursday, July 18th, Carscoops releases a third set of the C8 Corvette's interior spy photos.
These new photos share an exclusive look at the C8 Corvette's Dash from behind the wheel. Head over there to see the entire set:

The leak of options from the Canadian Chevrolet dealership in March leads us to believe that this interior color is referred to as "Natural". I find the layout of the controls to be very driver-centric. Instead of a transmission shifter (of the automatic variety), there are push buttons to select Park, Reverse, Neutral and Drive. And to the right of that is the driver-mode selector.
One thing we find interesting is the silver "Z" button (ZORA?) on the left side of the steering. I've been told it could be a programmable performance button that would instantly switch the car's configuration to a set of options customed by the driver. Those options would most likely include suspension firmness, steering wheel input, exhaust note, and other items found in the individual driver modes.
A couple items we covered previously include this curious button that appears to show a split window. We also noted the 'Stingray' name appears on the waterfall between the two seats.
There's a lot more here to digest but that's all the analysis for today. I do want to offer a round of kudos to Ryan Vaughn and the Corvette interior designers for another home run in the style department! Awesome work!

Source:
Carscoops

Related:
Does This Button On the C8 Corvette's Console Indicate a Split Rear Window?
[SPIED] Carscoops Shares First Photos of the C8 Mid-Engine Corvette's Interior
[SPIED] New C8 Mid-Engine Interior Spy Photo Reveals 'Stingray' Name