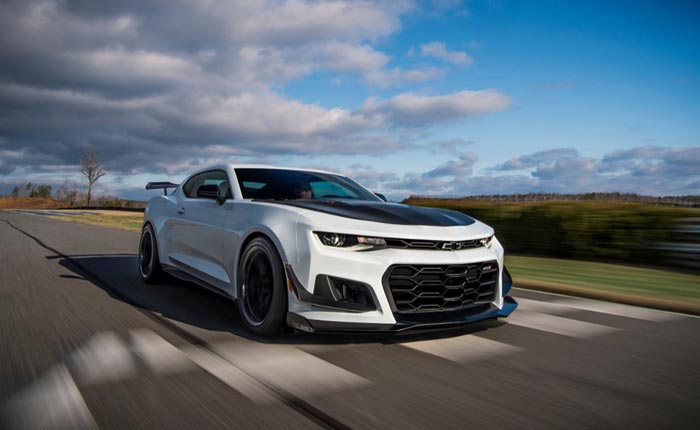 The Chevrolet Camaro team put out a release today with the news that the 2019 Camaro ZL1 1LE will be getting the 10-speed automatic transmission beginning in late February.
The ZL1 1LE model is the most track-capable Camaro and it has already given some very respectable sports cars a run for their money at the Nurburgring with a lap time of 7:16.04. And now armed with the 10-speed automatic transmission, Chevy engineers were able to go a half-second faster than the standard 6-speed manual at the 2.9 mile Milford Road Course.
"This transmission is optimized for speed," said Camaro Chief Engineer Mark Dickens. "With unique Track Mode calibrations and 10 gears, you are always in the perfect gear when rolling on or off the throttle. You may not be a professional race car driver, but now you can shift like one."
On longer tracks, you can take advantage of the lightning-quick shifts and use all 10 gears to help shave lap times. And if you are driving around town, you can take advantage of the standard paddle-shifters for a more engaging experience.

The Camaro's powertrain needed to be updated as well to accommodate the 10-speed auto. That includes the calibrations for the transmission, electronic slip differential, and the performance traction management system. The ZL1 1LE's front and rear Multimatic DSSV dampers were tuned for the faster shifts and new hardware includes a new transmission oil pan and additional cooling duct for the steering gear.
"Adding an automatic transmission is another example of the Camaro portfolio delivering what customers want. This ultimate 1LE is another appealing option that is true to its racing heritage," said Steve Majoros, director of Chevrolet passenger car and crossover marketing.
Additional ZL1 1LE features include:
Downforce-producing aero: Unique features include a carbon fiber rear wing, specific air deflectors and dive planes on the front fascia that produce grip-generating downforce to help the car stick harder and drive faster in turns.
Adjustable suspension: Racing-derived, lightweight Multimatic DSSV® dampers front and rear offer exceptional wheel and vehicle control. The front-end ride height is adjustable, along with the camber geometry. The rear stabilizer bar also offers three-way adjustability.
Wheels and tires: Specific lightweight forged aluminum wheels are an inch wider but an inch smaller in diameter, front and rear, than standard ZL1 wheels and are used with new summer-only Goodyear Eagle F1 Supercar 3R tires1 that deliver max lateral grip of 1.10g.
Lighter weight: The lighter wheels and dampers, along with thinner rear glass and a fixed-back rear seat, contribute to more than 50-pound lower curb weight than a standard ZL1 Coupe.
Supercharged performance and more: The power behind the ZL1 1LE is the 650-horsepower, supercharged LT4 engine. Brembo brakes are included, along with dual-zone automatic climate control, Bose premium audio system, heated and ventilated front seats and heated steering wheel.
The ZL1 1LE Track Performance Package has an MSRP of $7,500 and the available 10-speed automatic transmission an MSRP of $1,595.

Source:
Chevrolet.com

Related:
Bloomington Gold to Welcome Camaros for 2019 Event
Chevrolet Debuts eCOPO Camaro EV Drag Racer Along with an Electric Crate Motor at SEMA
HOT or NOT: Chevrolet Shows Off New Shock Exterior on 2019 Camaro