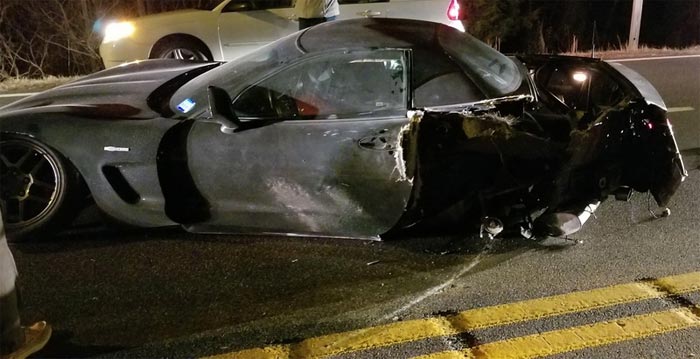 The video quality isn't the best in the world, but take a look at this fiery crash Wednesday night involving a C5 Corvette Z06 and a pickup truck in Maryland.
While it looks like a scene out of a movie, fortunately, the two drivers were able to get out of their vehicles and were transported to a local hospital for treatment of their injuries.
According to SMNEWSNET, the accident occurred when the Corvette, heading south on Point Lookout Road, collided with the pickup as it was in the turn lane on the same road. A few seconds after impact, the truck erupted in flames and was said to be totally engulfed in less than a minute.
The blaze brightened the nighttime sky about 10:20 p.m. in Leonardtown, Maryland on Point Lookout Road at the intersection of Route 5/St. Andrews Church Road.
Photos from the scene show the two vehicles still smoldering and surrounded by smoke. The Corvette suffered heavy damage to the rear of the driver's side.
The crash is being investigated by the St. Mary's County Sheriff's Office.

Source:
smnewsnet.com

Related:
[ACCIDENT] Arctic White C6 Corvette Burns Alongside a Highway in Connecticut
California House Fire Claims a A 2016 Corvette Stingray
Barn Fire in Ohio Destroys a Car Collection that Includes a C5 Corvette Convertible