Thanks to Mike Furman at Criswell Chevrolet, we have the first photos of a 2019 Corvette painted in the new Elkhart Lake Blue exterior. The color officially started production on October 1st and it's somewhat amazing that we can share photos of the fully painted car just nine days later.
The color is similar to Laguna Blue although the differences are noticeable when they are side by side. In fact, Mike tells us the dealership had three Laguna Blue C7s in for service today and he took this photo which we can use as a comparison:
Unfortunately, the skies were overcast when the auto transporter arrived so we'll have to wait until we can get the car in full sunlight for the best look at the metallic flakes in the paint. Seeing the exterior this way though is still a great way to judge a color. In this case, Elkhart Lake Blue is still very bright on overcast days, unlike Admiral Blue and the previous Night Race Blue which looks almost black when not in the direct sunlight.
Here's more of the 2019 Corvette Z06 wearing the new Elkart Lake Blue: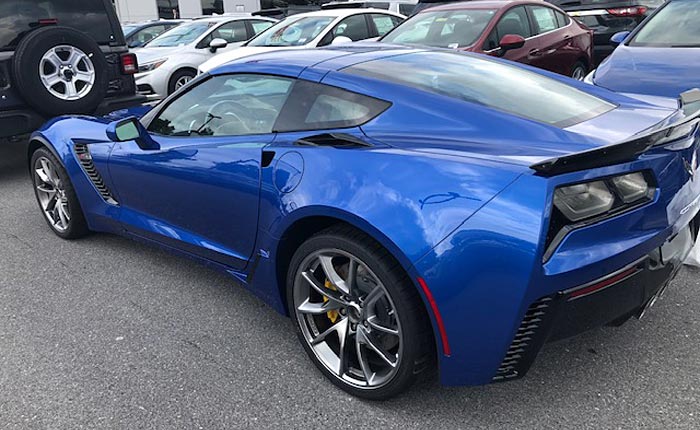 Source:
CorvetteFurman.com

Related:
[PICS] First Look at the 2019 Corvette's New Shadow Gray Exterior
Elkhart Lake Blue Starts Production Today
Production and Pricing Update on the Two New Exterior Colors for 2019 Corvettes
[PICS] Shadow Gray and Elkhart Lake Blue Exterior Colors Introduced for 2019 Corvettes