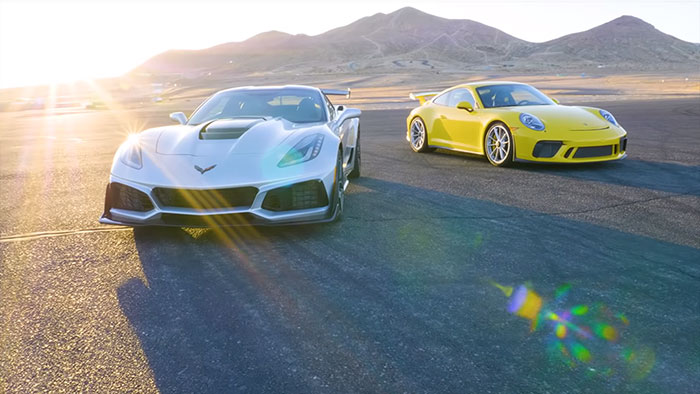 Here's a new review of the 2019 Corvette ZR1 vs the Porsche 911 GT3 by Carlos Lago and Alistair Weaver from Edmunds.com. The review focuses more on the experience of driving these two cars instead of lap times so it's a nice way to see how each sports car performs in its own way.
These two sports cars are very similar to each other in both performance and pricing. As tested, the Corvette ZR1 is priced at $131,300 while the Porsche 911 GT3's as-testing price is $160,900
The ZR1's LT5 supercharged 6.2L V8 offers 755-hp and 715 lb-ft of torque. The Porsche 911 GT3 makes its power with a 4.0-liter flat-six that provides 500-hp and 339 lb-ft of torque.

Edmunds does their own instrumented testing, from weighing the vehicles to standard performance stats. The weigh-in shows a significant difference as the ZR1 weighs in at 3661 lbs while the Porsche comes in at 3257 lbs.
During testing, the Corvette ZR1 ran 0-60 mph in 3.3 seconds, as well as 11.2 seconds at 127.2 in the quarter-mile time. The GT3 also hit 0-60 mph in 3.3 seconds and its quarter-mile was 11.2 seconds at 124.7 mph. The Corvette also shined in both braking and lateral acceleration tests.
Following the instrumented testing, the two reviewers hit the track in the cars for some laps. The difference in this review here is that both reviewers take each other for a ride while discussing the car. Carlos drives the ZR1 with Alistair riding shotgun (and holding on for dear life). The tables are then turned with Alistair behind the wheel of the Porsche 911 GT3 with Carlos belted in beside him.

What did you think of this review? Did you like the format how they drove each car together? Let us know in the comments below.

Source:
Edmunds / YouTube

Related:
[VIDEO] Edmunds Celebrates New Office Space with 50 Year Corvette Display
Edmunds.com Editor Recounts Harrowing Tale of Driving a 2014 Corvette Stingray in a Blizzard
Edmunds Adds a 1966 Corvette Sting Ray to its Long Term Test Fleet