If you didn't get to buy a new Callaway Corvette convertible back in the day, here's your chance.
And possibly at quite a discount over the new price.
One of the 71 twin-turbo models produced in 1991 by Callaway as GM option code B2K is up for sale on bringatrailer.com.
And it's practically brand new, with just 9,743 miles covered over the past 27 years.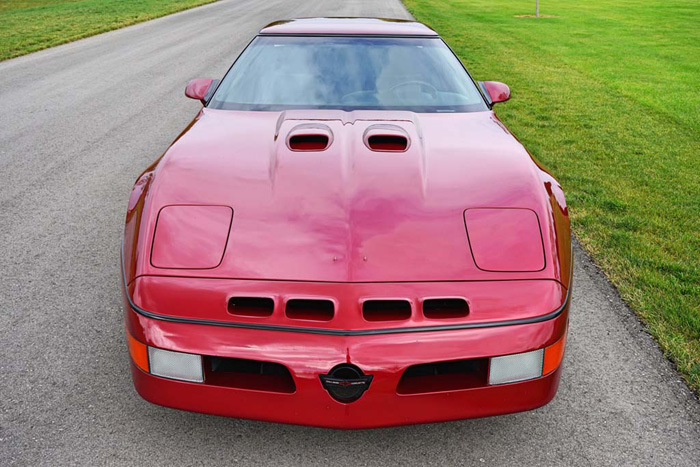 The current bid as of Friday afternoon is just $24,444 – admittedly much more than a regular C4 Corvette nowadays but considerably less than the $90,804 on the window sticker of this Callaway!
The auction ends on Monday, Sept. 17 at 2:50 p.m.
We've always been partial to the crisp sporty look of a C4 convertible fitted with a hardtop, and this Dark Red Metallic example is no exception.
The black leather adjustable seats appear to be in great condition, though the seller does note that one seat motor is currently not working. As for the body, the paint looks to be in good shape, though there is reportedly some spider cracking in the front and rear bumpers.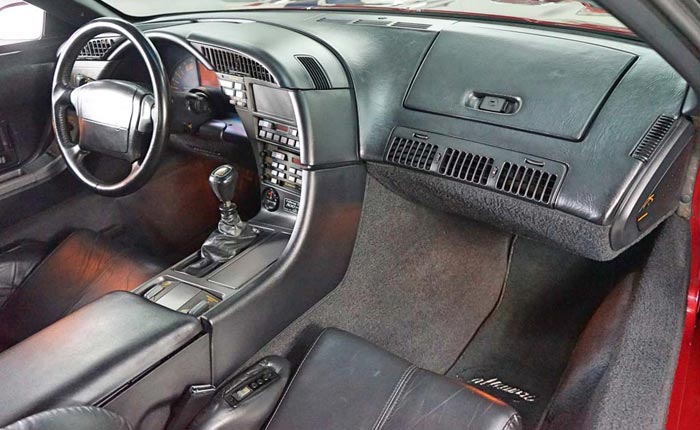 While the Callaway was considered a real monster in its day, the twin-turbocharged 5.7-liter V8 fitted to a 6-speed manual transmission is rated for just 403 horsepower, just three horsepower than even the base C6 model that came along 14 years later. Still, with its 575 lb-ft of torque, this Callaway probably remains a ball to drive. You've also got to remember that the regular 1991 Corvette made just 245 horsepower and 345 ft-lbs of torque, and even the mighty 1991 ZR-1 delivered only 375 horsepower and 370 ft-lbs of torque.

This Callaway, in the eyes of some beholders, also offers a sleeker look than the standard C4s, with its Sledgehammer-inspired Aerobody and Z5G package that featured a deeper front air dam and larger J55 front brakes, along with a set of polished C5 Corvette Z06 wheels that have been installed in place of the original magnesium Dymags that apparently had porosity problems through the years.
Each L98 5.7-liter V8 received 70-75 hours of mods by Callaway, with the TPI fuel-injected powerplants blueprinted and balanced after being changed to splayed 4-bolt main bearing cups and fitted with a forged crankshaft and 7.5:1 Mahle pistons. The cars also included a revised camshaft and valvetrain, larger oil cooler, upgraded dual exhaust, and more.
The new owner will receive documentation, a clean Carfax, and a clear Idaho title.

Source:
BringaTrailer.com

Related:
[VIDEO] 30 Years of Callaway Corvettes: 1991 Callaway B2K Twin Turbo 100 Plus Car
Corvettes on eBay: 1989 Callaway Twin Turbo B2K Aerobody Convertible
Corvettes on eBay – 1990 Callaway Twin-Turbo With Aerobody Kit