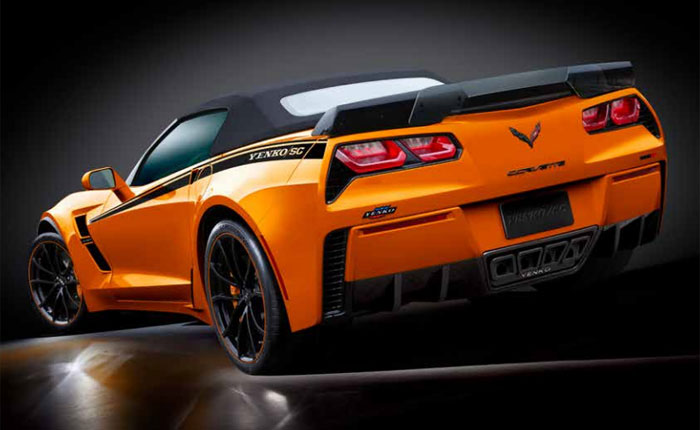 If the 755 horsepower Corvette ZR1 isn't enough for you, then Specialty Vehicle Engineering might be the place you need to call.
Formerly known as SLP, the company – founded by Ed Hamburger, a leader in the drag racing and performance vehicle business for more than 50 years – will be building 25 individually numbered 2019 Yenko Corvettes in two versions – a Stage I that cranks out 835 horsepower and a Stage II that takes it up a notch to 1000 horsepower.
The name Yenko, of course, has been widely respected for decades thanks to its high-output offerings for Camaros and Corvettes, and these versions – available through select Chevy dealers – certainly carry on that tradition.
Everyone will know these Corvettes are something special as soon as they see them, thanks to unique exterior treatments along with extensive interior badging, too.

For more information, check them on the web at specialtyvehicleengineering.com or call 732-240-3696, ext. 173.
Here are the particulars on the Stage II version:
Custom-built 416 C.I.D. (6.8L) LT-1 Engine w/Aluminum Block, Race-Quality forged 4340 steel crankshaft and H-beam rods, forged aluminum pistons, CNC ported LT-4 cylinder heads with ARP high-strength head and main studs,10 rib dedicated belt drive system, larger throttle body, upgraded higher flow exhaust system, higher capacity high and low-pressure fuel system
High/output custom supercharger (standard color black. Custom colors optional1)
Custom performance tune
1000HP Supercharged badges on supercharger
Cast aluminum quad exhaust tips w/brushed aluminum or black tip face with YENKO badge (utilizes dual-mode factory exhaust)
Heavy-duty transmission upgrade for vehicles equipped with automatic transmission
sYc® side stripe graphics with matching painted hood, hood grille, roof and decklid stripes available in Gloss Black, Flat Black, White, Hugger Orange, Silver, Red, Yellow, Gray, or Blue
Diffuser fins (4) painted in Carbon Flash Metallic
YENKO front fender graphic in body color or colors to match stripes (Silver when ordering black stripes)
sYc® center caps for stock wheels
YENKO Crest rear fascia badge in Silver or Black Chrome
1000HP hood cowl and rear fascia badges in Chrome/Red or Black Chrome/Red
YENKO 1000HP Supercharged billet aluminum door sill plates with vehicle build number (1-25)
YENKO crest embroidered premium floor mats in silver
sYc® logo seat headrests in black or gray (depending on factory seat color)
sYc® logo door panels in black or gray (depending on factory door panel color)
YENKO logo steering wheel appliqué
YENKO logo seat trim appliqué (available on Competition Sport seats only)
YENKO 1000HP Supercharged center console power badge with vehicle build number (1-25)
YENKO 1000HP Supercharged key fobs (2) with vehicle build number (1-25)
Faux leather bound portfolio, owner's manual, window sticker, manufacturer's certificate of origin
3 year/36,000 mile (60,000 kilometer) engine and supercharger assembly limited warranty
3 year/36,000 mile (60,000 kilometer) non-powertrain component limited warranty
12 month/12,000 mile (19,000 kilometer) transmission warranty
Optional 1000-hp Stage II YENKO/SC® Corvette Content:
Body color painted upper half of rear fascia/diffuser
Z06-Style Ground Effects Package including front splitter and side rocker panels painted in Carbon Flash Metallic
Z06 clear Wickerbill adjustable spoiler center
Painted supercharger
Paint brake calipers to match stripes or body color
Black powder coated wheel finish w/painted wheel stripes to match stripes or body color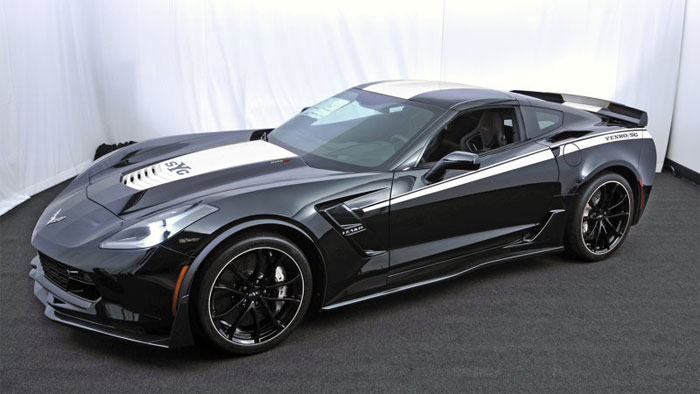 Source:
specialtyvehicleengineering.com

Related:
The First 800 HP 2017 Corvette Grand Sport Tuned by Yenko is Now Priced at $499,900
SVE Unveils Limited Edition 800-hp YENKO Corvette Grand Sport
Barrett-Jackson Preview: 1967 427/435 Yenko Corvette