Mecum Auctions has just announced that a very rare 1967 L88 Corvette Coupe will be on the block at its Indianapolis auction May 15-19.
L88 Corvettes were produced just three years – from 1967 to 1969 – and this 1967 model is believed to be the only Sunfire Yellow example out of all 216 L88s produced during that brief period.
And this one is a real honey.
The new owner will get a fantastically restored L88 that has an unreal amount of documentation, including the original new car sales contract, original title, and vintage photos of the car with its original owner as well as the only titleholder discussing its history.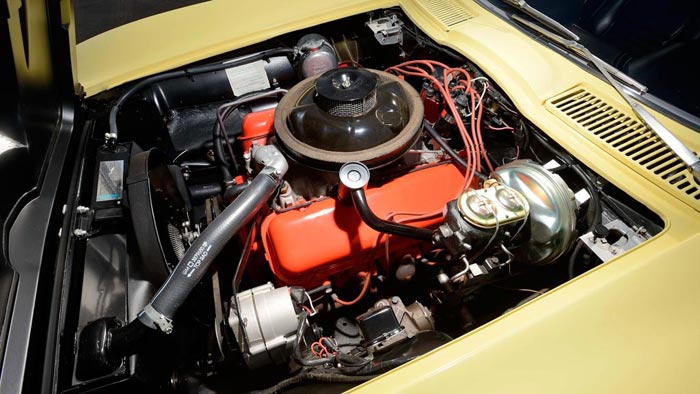 Adding to the package is Bloomington Gold certification, along with the fact that the car retains its original L88 block with Al Grenning/CCAS engine pad affirmation, as well as the original M22 transmission, power brakes and master cylinder, suspension and trim, original V IN and trim tags with the same affirmation, and NCRS-validated tank sticker.
The original owner was a young sailor still in his teens who wanted the most powerful car he could find to do one thing – win at drag racing. He traded in a 1966 Corvette on this L88, purchasing it from S&K Chevrolet on June 5, 1967. He used the L88 as a daily driver for a while, then decided to pull it on a trailer to races behind a 1963 split window Corvette.
He was a consistent winner with the car in California and Kansas but retired the car from competition in 1969 after a towing incident. After storing it in the family barn for about 15 years, he bought another Sunfire Yellow 427 Corvette and started racing again.

The Sunfire Yellow L88 eventually changed hands and went to Steve Hendrickson of Minnesota in 1986, and he took more than a decade to complete an extensive restoration, using the original parts, restored originals or new old stock parts, as well as body components from another 1967 427 Corvette.
In 1996, the restored car earned Bloomington Gold Certification, and Hendrickson eventually sold it to a collector from California who has owned it for about the past 20 years.
Of course, the most important thing about the car is its performance. With an estimated 560 real-world horsepower lurking under the hood, plus extensive racing-oriented upgrades, this was a Corvette meant for one thing – speed and lots of it!

One interesting fact about the sale – if you want to drive it on public roads, you'll lose the historic original title as a new title in the new owner's name would have to be produced. Based on the anticipated interest in this car, we'd be surprised if anyone was willing to risk the car's safety in the real world. Staying away from public roads, the new owner could keep the historic title, as ownership of the car would be transferred to the high bidder via a bill of sale.

Any discussion of a 1967 Corvette L88 coming up for sale and you need to go back and look at the two '67 L88s which both sold for record prices within a four-month span from September 2013 to January 2014.
At the Mecum auction in Dallas, a Red/Black 1967 L88 Corvette Roadster from the Buddy Herin collection took about 5 minutes to go from $0 to $3.2 million. A little over three months later at the Barrett-Jackson auction in Scottsdale, the 1967 Red/Red L88 Corvette Coupe known as the "Crown Jewel" eclipsed the previous mark with a sale at $3.85 million.
As our friend Rick Tavel used to say, if you plan on bidding on this 1967 L88 Corvette Coupe, you better bring a banker.

Source:
Mecum Auctions

Related:
[VIDEO] 1967 L88 Corvette Convertible Sells for Record $3.2 Million at Mecum Dallas
1967 Corvette L88 Sells for World Record $3.5 Million at Barrett-Jackson
[VIDEO] Watch This In-Car View of a 1969 Corvette L88 at Daytona's Classic 24 Hour