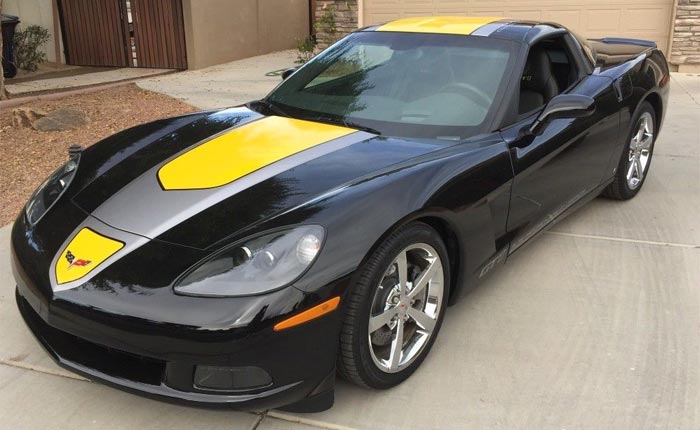 As a Corvette Racing fan and an enthusiast who appreciates the myriad of Corvette Special Editions offered during the C6's run, there is one special edition that stands above all others and that is the 2009 GT1 Championship Editions.
The GT1 Championship Editions were coming at a time that Corvette Racing was moving from the GT1 class down to GT2 and so the car celebrated the race team's eight ALMS GT1 Manufacturers and Team Championships, five 24 Hours of Le Mans class wins, and a total of 74 victories.
Chevrolet had big plans for the GT1s with 600 units planned that would be divided equally among the Coupe, Convertible and Z06 models – and those would be further divided by being offered in either Yellow or Black. Unfortunately, a global recession hit the automotive sector hard in 2008 right as these cars were being rolled out. Chevrolet would end up selling just 125 GT1 editions – 53 coupes, 17 Convertibles, and 55 Z06s.
Those that picked up the car when it first rolled out were mostly die-hard Corvette Racing fans and you hardly see a GT1 Championship Corvette available on the market, let alone two. Not only that, but the two that have recently popped up are both Black versions of the GT1.

First up on eBay is a 2009 Black GT1 Championship Edition Coupe model. It's 1 of 24 Black Coupes and it's the very last Black Coupe in the series. All original with just 1,770 original miles, this GT1 is in immaculate condition and features a 6-speed manual transmission, chrome wheels, ZR1-style spoiler. Inside, the Black leather interior is accented with Yellow Stitching and the GT1 emblems can be found embroidered on the seats and center console. Under the hood is a unique "carbon pattern" engine cover with Yellow Corvette lettering.

The auction for the 2009 Black GT1 Coupe runs through Tuesday (just after midnight) and it's priced aggressively at $40,000. You can see more of the ad and all the photos on eBay.
Perhaps you are looking for a more exclusive version of the GT?. Check out this consignment listing by Dan Kruse Classics which features a 2009 Black GT1 Convertible. This car was one of 10 rare C6 special editions offered by Dan Kruse at the Hill Country Classic Auction in September 2016 and it will be offered again during Car Fest & the San Antonio AutoRama in San Antonio, Texas on April 7th.

Of the 17 Convertible GT1s produced, just seven were Black. Adding to the exclusivity is that this Black Convertible has just 13 actual miles on the odometer (although another section on the site shows it has 64 miles.) The Convertible has a 4LT trim package and comes with an automatic transmission along with all the other standard appointments that make this a GT1.
Low production and special options including their own unique VINs make the GT1 Championship Corvettes highly collectible. As their prices are bound to begin increasing as we close in on the special edition's 10th anniversary, this is a great opportunity for the new collector or someone who is a big fan of Corvette Racing to add one of these special Corvettes to their garage.
H/T to Travis for the links!

Source:
eBay and DanKruseClassics.com

Related:
The World's Only 2009 Corvette Callaway GT1 Championship Edition Convertible Offered for Sale
[VIDEO] The 2009 Corvette GT1 Championship Edition Debuts at Sebring
Officially Official: The 2009 Corvette GT1 Championship Editions