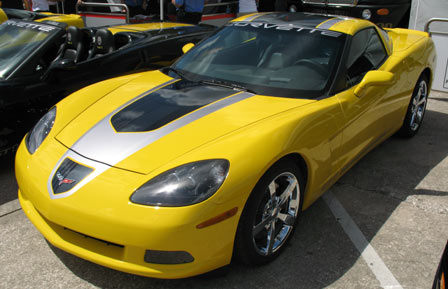 In commemorating the 10th anniversary of GT1 racing in the American LeMans Series, GM is producing 600 2009 Corvette GT1 Championship Editions and selected the Mobil 1 Twelve Hours of Sebring as the appropriate place to debut the new cars to the public. On the Friday before the 12 hour race, GM's Corvette team including Product Manager Harlan Charles and Chief Engineer Tadge Juechter were on hand along with the six drivers of Corvette Racing to introduce the limited edition "Jake" Corvettes.
The Corvette GT1 Championship cars shown in the video were the first six cars of the series built. Chief Engineer Tadge Juechter remarked that the Corvettes were just completed within the last week and were shipped down from Bowling Green. The six Corvette drivers picked up the keys of the Corvettes following an ALMS drivers meeting and drove them down to Corvette Racing's paddock. A little later, the six Corvette Racing drivers drove them over to the Corvette Corral to be viewed by the enthusiasts gathered at the hospitality tent.
The GT1 Championship Editions are limited to just 600 units: 200 Coupe, 200 Convertible and 200 Z06. Each of these body styles will have 100 in Yellow/Black and 100 in Black/Yellow. The series also has its own specific VIN sequences: 300001 for the Velocity Yellows and 40001 for those in Black.
The GT1 Championship Edition features C6.R livery inspired graphics which feature the mascot "Jake" ghost-painted on the hood bulge, years of the championships and drivers flags. Also making the Corvettes unique are the ZR1 full width body color spoiler and chrome wheels. The coupes and convertibles include the Z51 Performance Package, NPP Performance exhaust and MX0 6-Speed Paddle Shift Automatics. The GT1 Corvette coupe also comes with the optional C2L Dual Roof package. All three GT1 models get the optional U3U Navigation Systems as well.
Inside the GT1 Corvettes you'll find a custom leather wrapped ebony interior with exclusive yellow accent stitching, GT1 embroidery on the leather seats, instrument panel and center console armrest. Under the hood is a special engine cover with a carbon pattern and yellow Corvette lettering. A windshield banner is also included and is installed by the owner.
Pricing for the GT1 Championship Edition starts at $65,310 for the 4LT Coupe, $71,815 for the 4LT Convertible and $86,385 for the 3LZ Corvette Z06.
Check out our exclusive photo gallery of the 2009 Corvette GT1 Championship Edition.

Related:
Spy Pics Show 2009 Corvette GT1 Edition at the Decal Shop
Officially Official: The 2009 Corvette GT1 Championship Editions
Details Emerging on the 2009 GT-1 Championship Edition Corvette

Technorati Tags:
Corvette | Vette | 2009 | GT1 | GT-1 | Championship | ALMS | Limited | Edition | C6 | Z06 | Sebring |