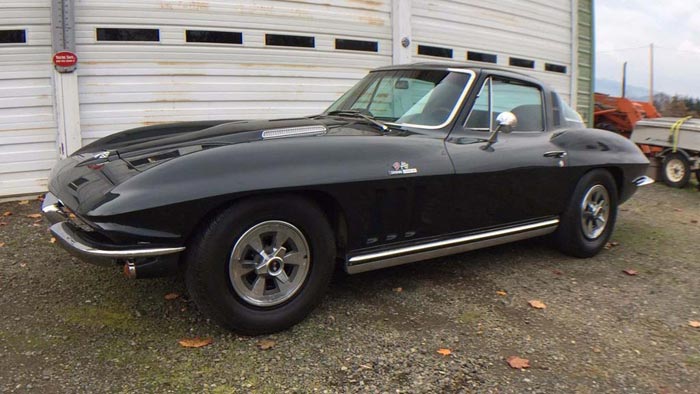 My grandpa used to encourage me to buy land as a good investment.
"You know, they don't make any more of it," he would exclaim.
Well, along those lines, they don't make any more 1965 Corvette coupes with a 396/425 hp engine, either. In fact, they didn't make too many like this one even back in the day.
This Glen Green over black interior Sting Ray is labeled as a survivor, and it's up for sale on eBay through Sunday at 11 p.m. (unless the car sells locally in Oregon before then).

The seller says the Corvette has been in his possession for more than 30 years, noting "it's not perfect, but you would be hard-pressed to find another survivor '65 Corvette 396 Coupe in this condition at this price."
"This price" would be $110,000.
Before you get your britches in a wad, take note that Hagerty values a similar coupe in #1 condition at a whopping $143,000! (Hagerty defines Condition #1 vehicles as the best in the world. The visual image is of the best vehicle, in the right colors, driving onto the lawn at the finest concours. Perfectly clean, the vehicle has been groomed down to the tire treads. Painted and chromed surfaces are mirror-like. Dust and dirt are banned, and materials used are correct and superbly fitted. The one-word description for #1 vehicles is "concours.")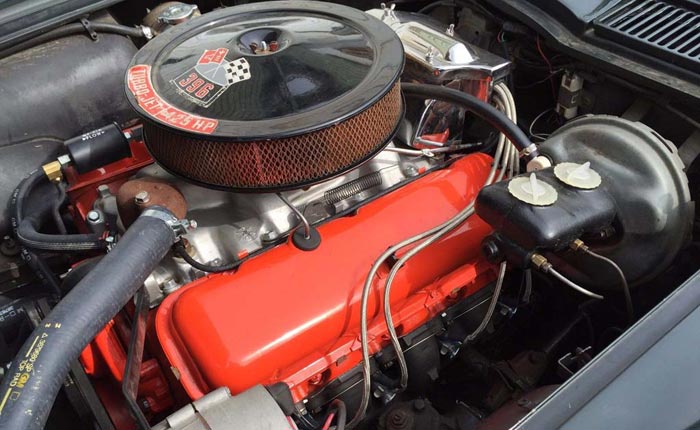 What makes this Corvette extra special out of the 8,186 coupes made that year is that it's one of just 618 to come with the 396/425 engine, the biggest and baddest offered in 1965, and this one is said to be an original unrestored car with just 70,200 miles, originally purchased at Courtesy Chevrolet in San Jose, California.
It's also nicely optioned with M20 4-speed transmission, power disc brakes, power windows, and AM/FM radio with power antenna. Another impressive feature is the teak steering wheel on a telescopic steering column, said by Hagerty to add $2,200 by itself to the value of the car.
However, looking through the photos, it's obvious that this Corvette isn't in #1 condition, even though it looks to be a nice example of a '65 with a burly 396 powerplant, which you have to admit looks mighty appealing in the pix.

Based on photos, which don't always tell the whole story, we'd say this car is in maybe #3 condition, which Hagerty defines in a single word as "good" and places its value at roughly $81,600. If it turned out to be a #4, it would drop to $50k, according to Hagerty.
So what would you be willing to pay for this survivor 396/425 Corvette? Keep in mind that, like good ol' earth, they don't make any more original Sting Rays like this.

Source:
BarnFinds

Related:
Corvettes on eBay: 1965 Corvette Convertible Parked Since 1984
Corvettes on eBay: Unrestored 1965 Corvette Coupe with 327/365-hp L76 V8
Corvettes on eBay: Barn Find 1965 Corvette Sting Ray Sport Coupe