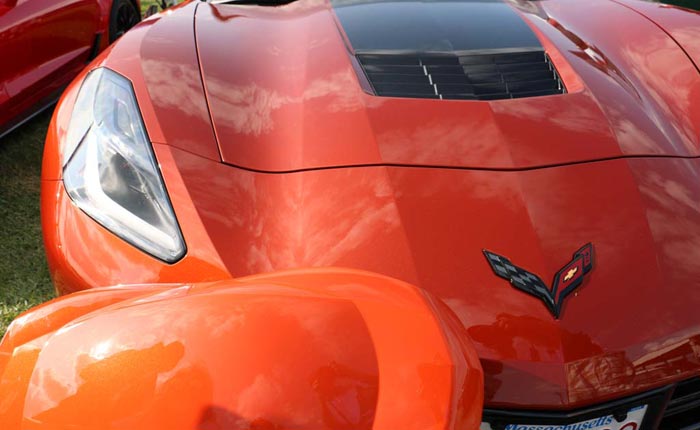 One the final day of Corvettes at Carlisle, we had the opportunity to take a closer look at the new exterior color called Sebring Orange. Sebring Orange is a new tintcoat color that should be available starting in December on 2018 Corvettes. The new exterior will be one of the first new colors painted in the Corvette assembly plant's new $400 million paint facility.
Ordering for the new Sebring Orange Tintcoat should open sometime in mid-October with the first examples targeted for build in December. This could change based on exactly when the Corvette Assembly Plant resumes production of 2018 Corvettes.
Chevrolet currently offers two other "tintcoat" exteriors, Corvette Racing Yellow and Long Beach Red. Both of these colors cost an additional $995 when ordering so we expect Sebring Orange to be offered at a similar price.
While at Carlisle, we took the Sebring Orange sample and compared it to several exterior orange colors as well as checking out how it compares with various interiors. First up, here is Sebring Orange next to Inferno Orange which was offered on C6 Corvettes from 2011-2013:

Next, here is Sebring Orange shown next to a Daytona Sunrise Metallic C7 Corvette:

And finally, here is the how Sebring Orange contrasts with the various C7 interiors:

Sebring Orange was also shown at the National Corvette Museum's Anniversary Weekend and we learned some extra details including how the color came about. According to Corvette Product Marketing Manager Harlan Charles, Corvette enthusiasts have been asking for a fun, flashy color like a bright orange, but brighter than the Daytona Sunrise. GM Design developed the color in 2015 and had been waiting for an opportunity to bring it to market.
"It matches an Orange Crush can and doesn't photograph as accurately," said Wendy Miller, Model Option Forecaster. "It's fun and metallic and is a color that needs to be seen. It was launched at Carlisle with pretty universal excitement!"

Sebring Orange Tintcoat Details
RPO – G26
Paint Code – WA418C
Engineering Name – High Voltage
Will be painted exclusively in the new paint shop
Available for order mid October
The primary interior color pairings will be with black and grey interior

Related:
[VIDEO] The 2018 Corvette Presentation and Sebring Orange Reveal at Carlisle
New Sebring Orange for 2018 Corvettes Announced at Carlisle
Harlan Charles Confirms a New Color Will Replace Black Rose Metallic…But When?