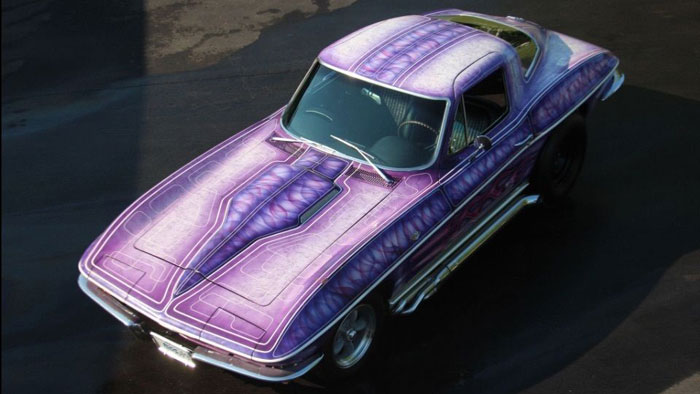 Love it or hate it, you have to admire the talent it took to do the custom purple and white paint job on this 1964 Corvette coupe currently up for sale on eBay at the Buy It Now price of $59,000.
The one-of-a-kind car remains a virtual time machine, having been psychedelically painted in 1973 by Riddler, an award-winning painter back in the day, and still "looks stunning" after being stored for 35 years, the seller says in his post.
In fact, he says it looks just like it sounds – "loud n nasty" – and "goes like hell" to boot.
The car, with the radio-delete option, still retains its numbers-matching L76 365 horsepower engine, along with a 4-speed Muncie manual transmission and even the original floor mats and keys, he says.

The new owner will also get two hoods – the original plus a 1965 hood that was added to run stack injection while running the show circuit.
This unusual C2 is described as "very reliable" and "drives like new" by its owner, who believes it should be in someone's collection or in a museum since "it's stunning in every way."
He has only washed it twice over the years since he bought it but says it "would glow if it was waxed."
Ironically, the car came from the factory as an "ultra rare" Tuxedo Black on black, and the seller claims there are only six such examples in the registry. Wonder what that would do to the value?

Source:
eBay

Related:
Corvettes on eBay: Wild 1971 Corvette with Psychedelic Paint Job
Corvettes on eBay: Psychedelic Themed 1965 Corvette Coupe
Corvettes on Craigslist: Custom 1969 Corvette Bicentennial Salute