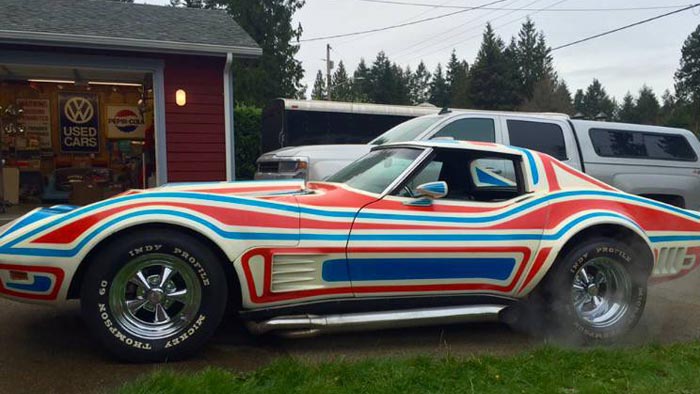 For those of us who grew up in the 1970s, examples like this 1969 big block four-speed Corvette were a common sight in magazines.
I don't think I've ever actually seen one like this in person, though.
Now some lucky (or yucky, depending on your perspective) person has a chance to park this one-of-a-kind custom Stingray in their driveway.
This one definitely is a polarizing example of a custom Corvette. Just take a look at these two widely varying opinions on bangshift.com that prove it:
"Hold on to your hat. Orig custom cars like this are going to be the next "big thing." Can't fathom the work involved in building this one!"
"Awful looking garbage !! I hated this wretched monstrosity in the 70's when I was a kid building model cars . The front end is very ugly and I hate when these wanna be car crafters remove the beautiful retractable headlights. Come on mannnn ! Leave the headlights alone. Throw this piece of junk in the fire pit where it belongs …. or better yet , restore it to showroom new please ….. I have 2 vettes , a 92 and an 03 that are factory correct . No need to junk em up with stupid custom stuff . They were just fine from the factory …"
Regardless of how you feel about the car, it is a piece of history though some of you might describe it as a piece of something else.
Nevertheless, the seller plains that it was custom built in 1976 and is a "total period correct street freak" with a factory 427/four-speed that the previous owner claims pumps out 500+ horsepower. It has a custom one-off body with side and hood vents, tilt nose, rare concaved Cibie headlights, Lake pipes, and period correct Cragar 5 spoke 15×8 and 15×10 with mint condition Mickey Thompson Indy profile tires.
Since 1976 was the nation's bicentennial, it's no surprise that the car was painted a patriotic looking red, white and blue, but it is surprising that the paint is still in good shape after all these years. The interior is also described as being in "great" condition.
All in all, the seller says this is a "very cool time piece," and we'd be inclined to agree. While we never have been big fans of custom Corvettes, the older we get, the more we appreciate the historical value of cars like this Stingray. The custom 1969 Corvette is listed for sale at $24,000 on seattle.craigslist.com
Chalk this one up as a tribute to the very cool 1970s!

Source:
seattle.craigslist.com via BangShift.com

Related:
Corvettes on eBay: Wild 1971 Corvette with Psychedelic Paint Job
Corvettes on eBay: Psychedelic Themed 1965 Corvette Coupe
Corvettes on eBay: The Force is With This Star Wars Themed 1974 Corvette