Remember that 2017 Collector Edition Grand Sport that the Corvette Museum gave away last month? Well, I didn't win it, but one of our readers did. Shortly after he was announced as the winner, Ken Pauley reached out to us to let know that the car was soon to be his. So this episode of RIDES is all about Ken's new GS (#43 of 1,000) and his 5-day, 2,500 mile road trip back home to Georgetown, California from the NCM. Insert your Corvette envy here.
This is Ken and his wife's first Corvette after a series of other collector cars. He picked it up on February, 9th, toured the plant, and then proceeded to head west photographing his travels along the way. Ken does a great job of recanting his first week with his new Corvette so we'll let you read his words and view his photos below.

"The Museum Delivery, especially being a raffle winner, was simply a once in a lifetime experience. Not sure how else to describe it. The staff at the museum along with Chuck from Campbell Chevrolet were simply incredible to deal with, extremely welcoming and making us truly feel like VIP's. I'm sure everyone says they wish they just had more time there and I can echo that, would have loved to have used two full days for that whole experience, but there is so much anticipation in wanting to get behind the wheel of that car I don't think anyone could do that! It was completely enjoyable though, smiling and pinching myself the entire time.
The day started early with meeting the team and doing some paperwork. Then we spent a few minutes with the car, was hard to keep me away. After that we had a wonderful private tour of the plant. Meeting people that built the car and having them thank me was just crazy, I was thanking them! After that we went through the museum where we were able to see the '62 that fell into the sink hole get rolled out for restoration (they published a video of that ceremony, you can see my wife and I in that video in the background, another amazing part of this whole thing!).

My wife Chris, and I are first time Corvette owners, have always admired but never owned. To win this particular car (IMHO probably the best car they have raffled off in years) is just mind boggling. I've had 60's muscle cars before, a Lexus GS400 and an 96 Impala SS, so varying types of performance cars, this by far is superior to all of them combined, it's just insane engineering and was a crazy fun ride home for Chris and I.
We drove just over 2,500 miles home, averaging 22.2 MPG, in 5 days. The first day we did the Museum Delivery, Factory and Museum Tours and then drove to Little Rock, AK. It was there we did our 500 mile oil change at Bale Chevrolet, the staff there were tremendously friendly, many wanting pictures with the car. This car gets a lot of attention, something we'll need to get used to.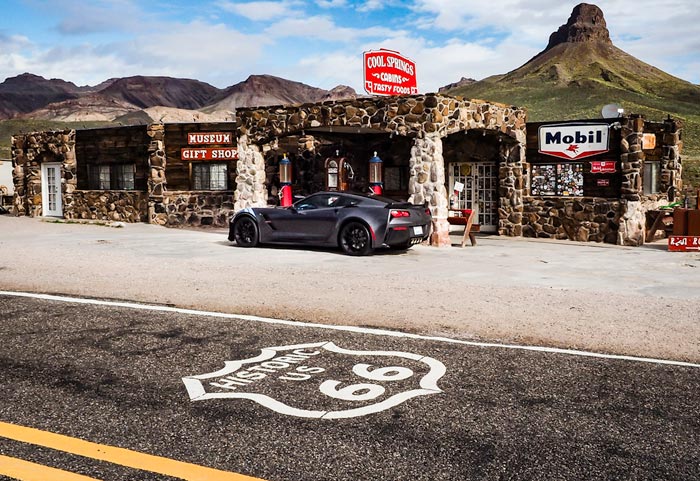 From there it was fun cruising back home, mostly on 40 (with a few good spots to open it up!), but we took a few key detours onto the old classic Route 66 to see a few sites. The photos in the album are a few of those stops.
The other aspect of this whole adventure that was very special for us was sharing it with our friends on Facebook. From the time we won the vehicle, sharing the news as well as the live raffle video that the museum does, to the chronicling of our journey to the museum and the drive home. Our friends were able to participate with us on the journey and made it that much more special of an event for us. We were constantly being texted while at the museum from our friends watching us on the web cams that they provide, they were sending us screen shots of the web cams and having us pose even! I've included one of those, but I have many more that we'll be putting together into an album.
Now that we are home, we are planning on enjoying this car! It will be driven! It will have Xpel clear wrap installed in a few weeks to protect it and it will be mostly a fair weather car (we did see some rain on the way home), not a daily driver. It will definitely not be stuck locked in the garage, we live in the beautiful Sierra Foothills which has great back country winding roads that will be a joy to cruise in this car. Looking forward to many years ahead of enjoying this truly special Corvette."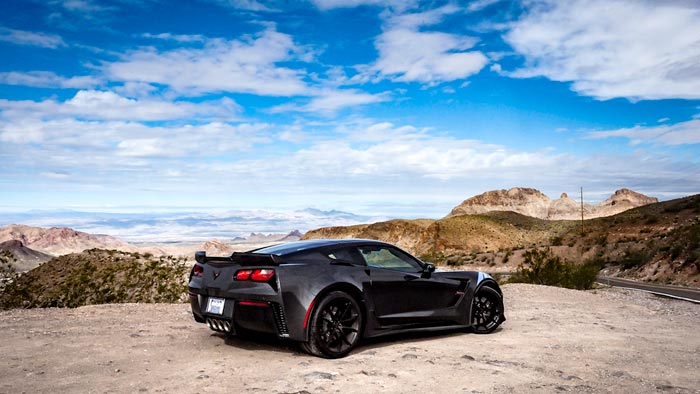 You can see Ken's Flickr gallery for some phenomenal photos of their journey. Thanks, Ken, for sharing your story with us. Your very first Corvette experience is one that most of us will only dream of. Congratulations again and welcome to the Corvette family!
Want to see your Corvette featured on My Corvette Ride? Pick your Corvette's best photo, or a photo with a really good back story and send it to [email protected]. You must include your name and city/state and give me a caption or details that tells us something about your car or the setting of the photo.

Related:
[RIDES] Tom and Peggie's 2017 Corvette Grand Sport Collector Edition No.232
[RIDES] Rick's 2015 Corvette Z06
[RIDES] Gary's 2017 Black Rose Corvette Grand Sport Convertible