There's something about a C2 Corvette that demands admiration, even – and maybe especially – one with 53 years worth of living etched into it.
This 1964 Corvette coupe up for sale on eBay won't win any Top Flight awards anytime soon, with its splotchy, chipped, and scratched paint and its ragged seats and faded carpet inside.
But this Corvette might just win a sentimental award just for surviving.
You see, it had the same owner from 1964 to 2016, a now-retired Marine captain named J.W. Moffett. He bought it from the original owner, who soon found he couldn't afford the payments if mommy wasn't going to help.

Capt. Moffett didn't baby the car over the years, using it in his travels across the country for the Marines, and it shows in its rough and tumble appearance.
Still, as the new, third owner says, this '64 has "plenty of patina that whenever it is driven – people stop & stare."
Indeed, this might be a good car just to get back in safe running condition and leave the exterior as is. Sometimes a car can say more left in its original condition than being beautifully restored.
"This is an unrestored 64 Corvette that needs everything," the seller admits in his listing, "but I would get it to the point when it's road safe & leave it alone. Too much history & patina to take it apart."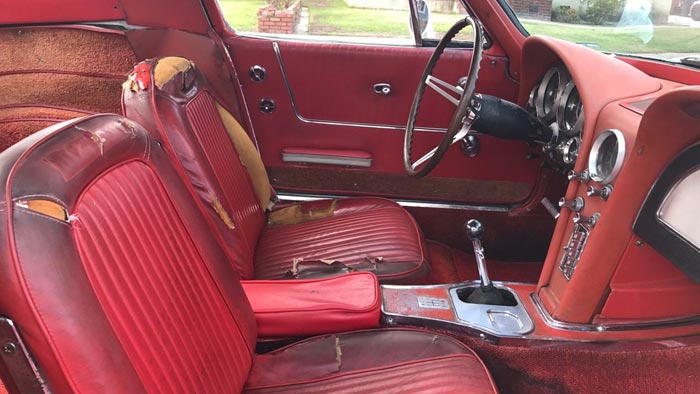 Some have even suggested trying to find an old pair of seats that still have a weathered look but aren't so ragged that the foam is sticking out. Maybe that's an idea because brand new seat covers would definitely look out of place if the car isn't repainted.
Even with the bad paint, this car is beautiful! We especially love one photo of the car that shows the rear three-quarter side view. There's no such thing as an ugly C2 Corvette, at least in this writer's opinion.
This one also boasts the original L76 327/365 engine mated to a four-speed transmission. It also has power brakes, AM/FM radio, and all original soft ray glass.
You also get a lot of historical documents with this car, including a log book that details some gas and service done over the years. The glove box remains a time capsule, with maps, traffic tickets, records, registrations, and military paperwork inside and telling the story of the past 52 years.
The current owner says after he bought it, he took the car to a Corvette specialist, where all fluids were drained and replaced. The original gas tank was taken off and cleaned, and the original Holley carburetor was rebuilt.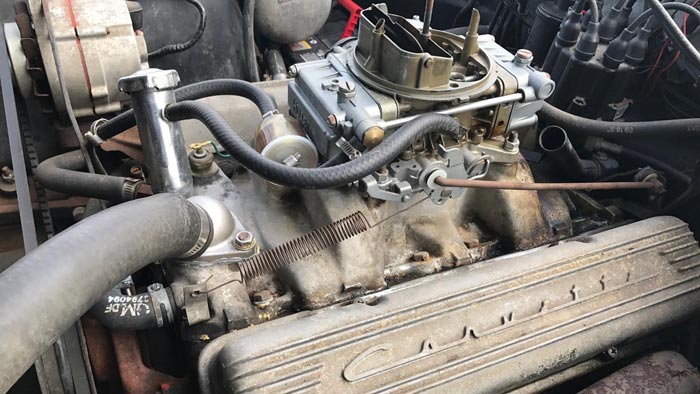 "Went thru the brakes, fuel lines & she started right off & man does the solid lifter sound good," the seller says. "Replaced all the tires with vintage Firestone whitewalls. Took it on the 405 freeway & just drove it for about 30 minutes. Hauled ass after sitting for 20+ years. Runs well, starts up – no smoke. Engine still has plenty of power. Please keep in mind, you can't drive it across country, still needs hoses, etc."
The current bid is $35,500. What would you pay, and what would you do to the car afterwards?

Source:
Ebay via BarnFinds.com

Related:
Corvettes on eBay: Two-Owner 1967 Corvette Convertible Barn Find
Corvettes on eBay: Los Angeles Garage-Find 1963 Corvette SWC Offered for Sale
Corvettes on eBay: 4.1 Original Mile 1978 Silver Anniversary Edition