Popp is tops again in his Lingenfelter-powered C5 Corvette!
Competing against nearly 90 other vehicles at Las Vegas Motor Speedway last weekend, Danny Popp of Cincinnati, Ohio and his 2003 Z06 emerged as the winner of the OPTIMA Ultimate Street Car Invitational for the third consecutive year. Popp also won the competition in 2011 in a 2006 Corvette.
This year, Popp finished with a total of 491 points in five categories of the competition, which aims to measure each vehicle's ability to master real-world street driving challenges and excel on the race track, too.

The competition included the PowerStop Speed Stop Challenge, the Detroit Speed Autocross, the Lucas Oil Road Rally and the Falken Tire Hot Lap Challenge. A panel of judges also assessed each vehicle's quality and craftsmanship during the Lingenfelter Performance Design & Engineering Challenge.
"Obviously, our RAFT Motorsports race team was elated," said Popp. "We're excited about the unprecedented three-peat. It is a testament of the fact that extraordinary results are more easily accomplished through the efforts of many. Thank you to all of our partners for making this happen. I feel lucky to be the driver of this Lingenfelter-powered 2003 C5 Z06 Corvette."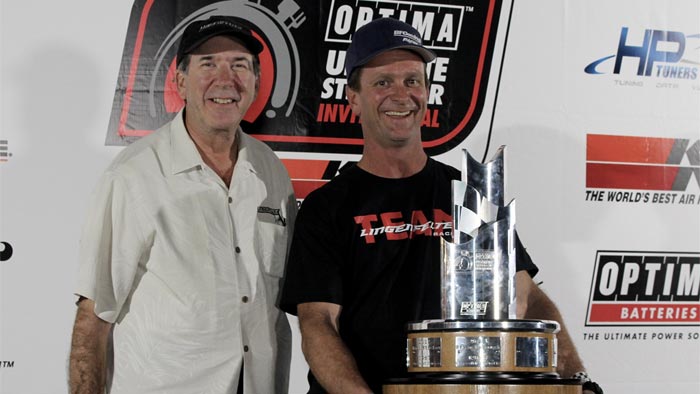 Who wouldn't be excited to climb behind the wheel of this wild Z06 that's powered by a 388 cubic-inch LS7 engine with GM LS7 cylinder heads ported and modified by Lingenfelter? Also helping Popp's Corvette perform to its ultimate best were other major performance brands like Forgeline Wheels, BF Goodrich performance tires, Hawk Performance, Baer brakes, Vansteel, JRI, Ultimate Performance, DeWitts High Performance Aluminum radiators, JRI Shocks, K&N engineering and COMP Cams.
Check out this short video of the OPTIMA Ultimate Street Car Invitational Winner's Circle festivities at https://www.youtube.com/watch?v=j0zEm68WddY.

Source:
Lingenfelter Performance Engineering

Related:
[VIDEO] Ride Along with Danny Popp at the Bloomington Gold Autocross
Danny Popp and His 2003 Corvette Z06 Wins the 2014 Ultimate Street Car Invitational
[VIDEO] Corvette vs Corvette in the 2013 Goodguys AutoCross Finals