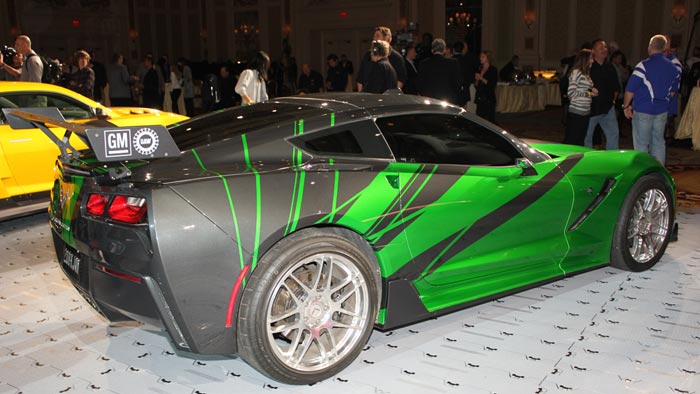 So the big pop culture news is that the latest installment of Transformers: The Last Knight is filming ahead of next summer's opening and yes, the Green and Black C7 Corvette known as Crosshairs appears to be one of the returning Autobot characters.
A series of images showing the cars that are featured in the movie made their way to Autoblog yesterday and while they are saying that the Corvette is a Z06, we have our doubts based on the styling cues in the photos.
As these images appear to be bought and paid for, feel free to go check out Autoblog's gallery of photos featuring the "Corvette Z06" transformers and then come back and I will tell how we know this is a Corvette Stingray.
For many, the tell-tale way to distinguish a Z06 from a Stingray or now the 2017 Grand Sport is the design of the side fender vent. The Green and Black Corvette does look to have the Z06-styled side fender vents but when you view it full size, you will see that it's not the Z06's side vent. As the badge location in lower than the Z06 badge, it looks like a prototype Grand Sport vent, but different.
Other styling cues that prove this is a Stingray is that the the photos show the Corvette to be wearing the Stingray's front grille with the chrome bar running across the center. While a Stingray might have the upgraded Z06 grille, Chevy would never put the Stingray's grill on the Z06 due to the special air ducts for cooling the front brakes.
The Stingray's tail lights are red when not activated while the Z06 Corvette's tail lights are clear. These photos show red tail lights.
Our final clue that the Corvette shown in these spy photos is a Stingray are the size of the steel brake calipers. The Corvette Stingray wears 12.6″ or 13.6″ (Z51) front roters and 13.3″ rear roters while the Z06's steel roters are 14.6″ front and 15.5″ rears. When you have 650 horsepower, those larger brakes are needed to stop all that power. The Corvette is shown wearing the same rims from Transformers 4 as well.
The Corvette does have a custom rear wing set-up which is new so we will be interested in seeing that, but otherwise, Crosshairs is pretty much the same Corvette Stingray as was featured in Transformers 4.
The Camaro known as Bumblebee morphs into the latest greatest Camaro for each sequel so it would have been nice to see the latest greatest Corvette Z06 featured as well.
You will be able to catch Crosshairs and the rest of the autobots when Transformers: The Last Knight opens in theaters in June 2017.

Source:
Autoblog

Related:
[PICS] Transformers' C7 Corvette Stingrays Spotted on the Set in Detroit
[PIC] 2014 Corvette Stingray Spotted in Michigan on the Set of Transformers 4
[PICS] Transformers 3 Corvette Stingray Convertible Seen on Flickr