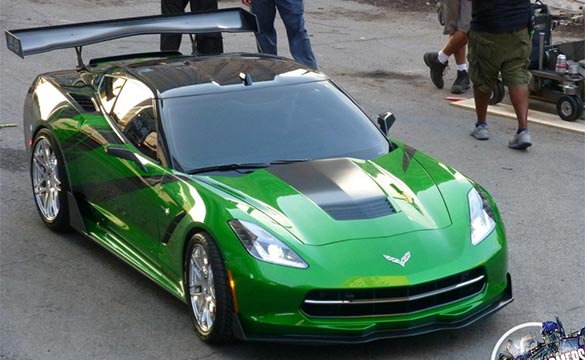 Filmmaker Michael Bay and his cadre of automotive robots was back in the Motor City last week as a portion of the city was turned into an Asian Metropolis for a scene in the fourth installment of Transformers.
The Green and Black "Race-Inspired" C7 Corvette Stingray was there (actually there were two C7 Stingrays on the set), the yellow Camaro known as Bumble Bee, the black and blue Bugatti and the Western Star Semi Truck that is Optimus Prime.
Filming of the movie took place near Grand Circus Park which is fairly close to Comerica Park, home of the Detroit Tigers.
Check out these pics of the Corvette Stingray:
The autobot that the Corvette Stingray will turn into has yet to be released but some are pointing the character named "Slingshot".
Transformers 4 is expected to hit the big screen on June 26th, 2014.

Source:
VK.com via CorvetteForum.com

Related:
[PIC] 2014 Corvette Stingray Spotted in Michigan on the Set of Transformers 4
C7 Corvette Stingray will Come to Life as an Autobot in Transformers 4
[PICS] More C7 Corvette Stingray Images from the Set of Captain America: The Winter Soldier