Midyear Corvette production was in its third year when the 1965 Corvette was introduced and offered for the first time ever was a Corvette big block V8 rated at 396 cubic inches and 425 horsepower. For many buyers, the opportunity for more horsepower at a lower price was more than enough reason to check the box over the higher priced 327/375 hp fuel injected L84 V8.
Consequently, with buyers selecting the big block over the fuelie by almost 3-1, the 1965 Corvette became the last Corvette model to offer fuel injection until the "cross-fire" Corvettes began production in 1982.
Just 771 examples of the 327/375 hp L84 Corvettes were produced and we don't often see then come up for sale all that often due to their low volume and collectiblity. But next weekend, Mecum will be offering an outstanding example of one of the last fuel injected Corvettes of the 1960s at their annual Spring Classic sale in Indianapolis.
This Rally Red Corvette Sting Ray has undergone a frame-off restoration and only 130 miles are showing since completion. Inside, the beautiful white leather interior contrasts very nicely with the red dash and and black gauges.
Under the hood, the Ram Jet fuel injection unit sits front and center on top of the 327 and provides a much different look than the normal carburetor set-up topped with the round air cleaner. The fuelie 327 V8 is coupled with a Muncie 4-speed manual transmission and the auction catalog describes the driving sensation as "acceleration limited only by the owner's nerve."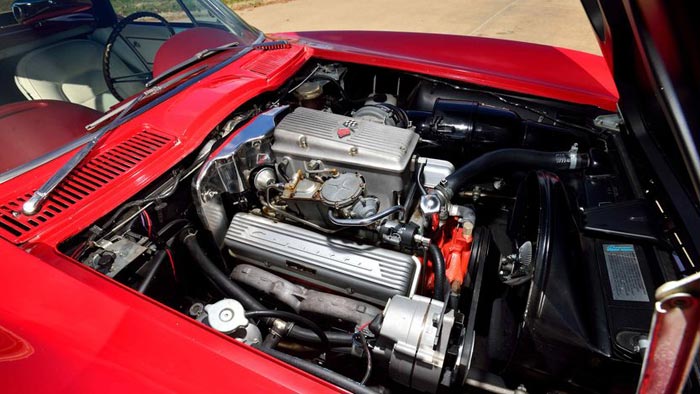 Other options include a white convertible top, power windows, AM/FM radio and Firestone Goldline tires mounted on aluminum knock-off wheels.
Rarity is always something worth highlighting and the fuel injected 1965 V8 is about as rare as they come. As mentioned above, only 771 Corvettes were produced in 1965 with the L84 fuelie option which accounts for just 3.27% of all 1965's built. Another rare option is that only 2,128 Corvettes (9.0%) were offered with leather interior.

This fuel injected 1965 Sting Ray is Lot #S226.1 and will be auctioned on Saturday, May 21st Indiana State Fairgrounds. As our friend Rick Tavel likes to say, "better bring a banker" as the estimated sales price on the 1965 Corvette is between $100,000 – $125,000.

Source:
Mecum

Related:
Win These Two Special Corvettes in the 2016 Corvette Dream Giveaway
[VIDEO] Lingenfelter Collection Features a 1965 Corvette with a L78 396/425 hp V8
[PICS] MCACN 2015 – 1965 Big Tank Corvette Barn Find Restored