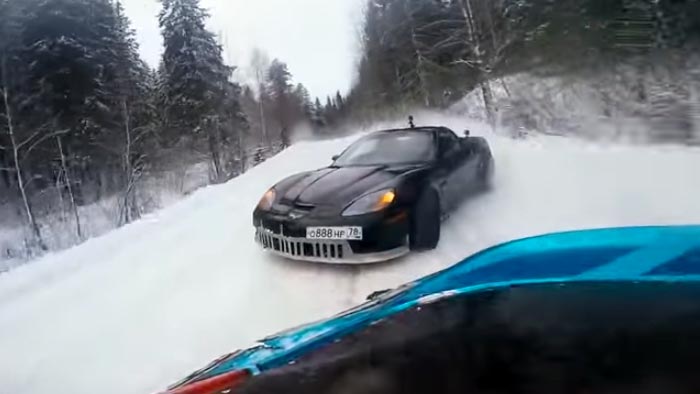 A snow covered road somewhere in Russia is the stage for this epic demonstration of hoonage and drifting with a C6 Corvette Z06 and a well used Toyota Supra. Great camera work and soundtrack by Kid Rock help take the drifting action to the next level!
These drivers obviously aren't too concerned with damaging their cars as, well, it looks like they've already seen plenty of action. The Corvette's lower front fascia looks to be a one-piece section of polished metal with a slotted grill. The Supra is well worn with no front wheel fenders and a front fascia that is completely missing.
The cars are obviously set up for drifting as the Corvette driver is seen working a modified emergency brake lever to lock up those brakes and put the car into a slide around the corners.
One of the drivers is Sergey Kabargin whose Instagram account features other videos that were shot during the making of epic snow drift video. In one of the instagram photos, you can see one of the drivers using a shovel to dig themselves out a snow drift.

Source:
kabargin.drift / Instagram

Related:
[VIDEO] Fortune Magazine Shows How Hard It Is to Drift a Corvette Z06
[PIC] Throwback Thursday: Classic Corvettes Drifting at the Track
[VIDEO] Drifting a Corvette Z06 on an Arctic Ice Track