If you know someone who has attended a Ron Fellows Course at Spring Mountain Motor Resort and Country Club, you've probably heard them rave about how much fun and challenging the different track configurations can be. And coming this May, Spring Mountain is offering you a chance to drive your Corvette on their world-class track with the return of Corvette Track Days.
Corvette Track Days returns to Spring Mountain on May 7-8, 2016. It's a fantastic opportunity to spend two days driving on a three mile track configuration that will leave you smiling for days.
Participants will run in four fun groups based on experience levels which ranges from novice (four track days or less) to Advanced drivers who hold a racing license.
Cost for the May 7-8th Corvette Track Day is $400 for one driver or $700 for two drivers (same car) and that includes a Saturday dinner.
To register, click here to download the registration form and then email it to [email protected]. Participation is limited so act now to secure your spot!
Download the Corvette Track Day Flyer (.pdf):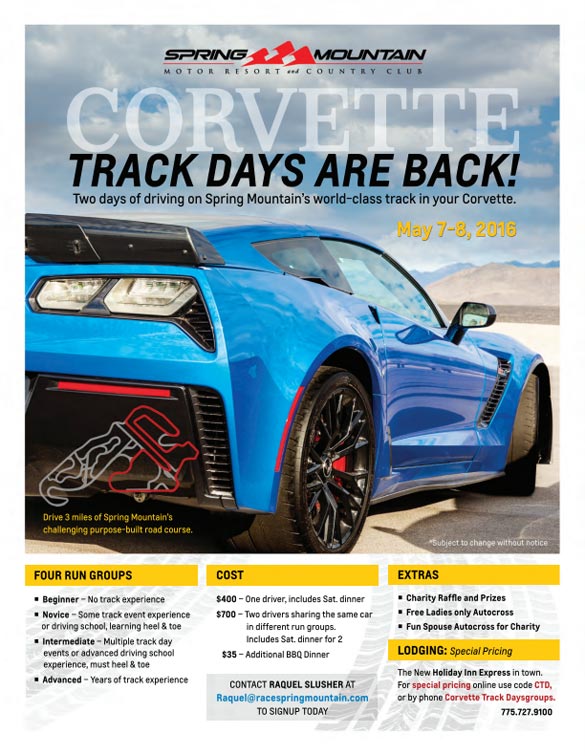 Check out Spring Mountain's website at www.springmountainmotorsports.com and you'll agree that the facility looks second to none. We also suggest contacting our friends at the NCM Insurance Agency regarding On-Track coverage

Source:
Spring Mountain Motor Resort and Country Club

Related:
[GALLERY] National Corvette Seller Mike Furman Drives the Corvette Z06 at Spring Mountain
[VIDEO] Ron Fellows Talks About the Michelin Corvette Challenge
Comedian Jeff Dunham Drives the Corvette Stingray at Spring Mountain Motor Resort
[VIDEO] CorvetteBlogger Visits the Ron Fellows Driving School at Spring Mountain