A few days ago, my wife and I watched an old rerun of Charlie's Angels.
Even without Farrah Fawcett-Majors (as she was known back then) in the episode, you can't think of that show without remembering her and the famous all-time best-selling poster in the red swimsuit.
Like millions of other hot-blooded American males of 1977, I bought a copy of that poster, which is still safely stored somewhere in all the other memorabilia from my high school days.
Now that Farrah has passed away, all that her fans have are memories like those.
Well, maybe not…
Barrett-Jackson will be auctioning off a rare Farrah Fawcett item from the 1970s at the Scottsdale auction at the end of this month – her green 1970 Foxy Farrah Corvette customized by the king of cool, George Barris himself, complete with a mobile phone, TV, and a furry interior!

According to Barrett-Jackson, the Corvette – a 4-speed manual hooked to a 350 engine – was found in storage near Farrah's hometown in south Texas after being stored for decades.
Unfortunately, time has not been kind to this Corvette. The engine compartment is a rusty mess, the paint is badly faded and peeling in spots, just the way the current owner found it in storage.
However, the car has been mechanically serviced to run and drive again. This is a great example of "does the new owner leave it the way it is – as a survivor" or does he restore it back to the way it was when Barris first completed it for Farrah?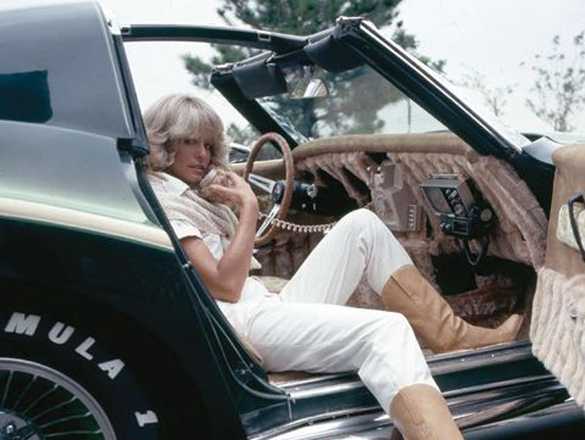 The car is being sold at no reserve, so before this month is out, some lucky Farrah fan will own a piece of automotive and cult history when the gavel falls. Barrett-Jackson points out:
This one-of-a-kind custom has been well-documented by George himself in numerous articles and books. It's even been immortalized in a scale plastic kit that is nearly as rare and included with the sale. This is a once-in-a-lifetime opportunity to own an original George Barris custom built for one of America's sweethearts.
We ran a story and photos of this car back in 2011 when it was for sale on eBay at the "Buy It Now" price of $1.2 million. Will the price go that high at the auction?
Guess we'll just have to wait and see.

Farrah Fawcett's Foxy Vette is Lot #1493 and will be offered for sale on Saturday, January 30th at the Barrett-Jackson auction is Scottsdale, AZ. For auction details, visit www.Barrett-Jackson.com.

Source:
Barrett-Jackson

Related:
Corvettes on eBay: Farrah Fawcett's Foxy 1970 Corvette
Guitarist Slash to Auction 1966 Corvette Coupe
The George Barris "Asteroid" Corvette to Cross Barrett-Jackson's Scottsdale Auction Block