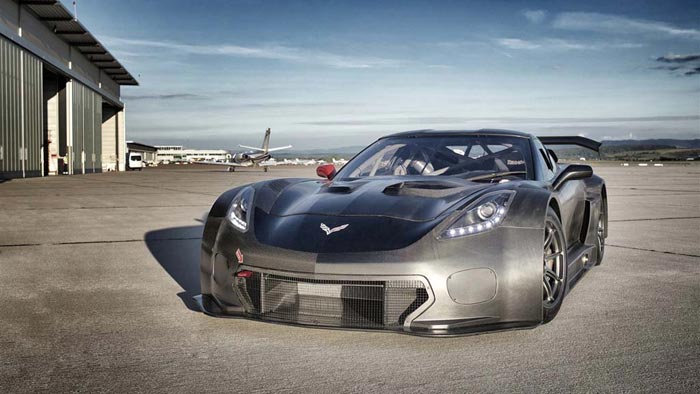 On Saturday afternoon at the ADAC GT Masters season finale at Hockenheim, Callaway Competition new C7 GT3-R race car made its world debut. The Corvette C7 based racer will make is racing debut in 2016. Until then, we'll just have to drool over these photos.
The Callaway C7 GT3-R has been a project we've been following for over two years now. The project faced a couple start/stop moments but eventually got underway. The design comes from a collaboration of the team's owners, Giovanni Ciccone and Ernst Wohn along with reknowned Canadanian designer Paul Deutschman.
The new GT3-R racer is powered by a Chevrolet-based 6.2L V8 engine with 600 horsepower. The car is built to FIA specs and has a X-Trac 6-speed sequential paddle shift gear box which team members have said that it's surpassed its predicted performance.

The first Callaway Corvette C7 GT3-R will be campaigned by Callaway Competition, sponsored by Whelen Engineering.
Ernst Wohr and Giovanni Ciccone, managing partners of Callaway Competition offered this quote of thanks to those who were involved with the project:
"We wanted to set another milestone in our company's history with our new design, developing and constructing a future-proof vehicle that will be produced from 2016 and used for many years to come. As a small, privately owned team lacking the finances and human resources of the big automotive groups, we knew from the outset that approaching a project of this magnitude would be very daring. Therefore, first and foremost, we have to thank our employees and partners who have made it possible to finally set the C7 GT3R on its wheels. Everyone has given more than 100% and we truly can't thank them enough. We can be proud of our performance to date and are confident we will be rewarded with good results in the many races ahead."

Source:
Callaway Cars

Related:
The Callaway Corvette C7 GT3 is Teased Ahead of October's Reveal
The Spring Update on Callaway Competition's C7 GT3 Race Car Build
[PIC] Callaway Competition Teases the C7 GT3 Callaway Corvette Stingray Racer