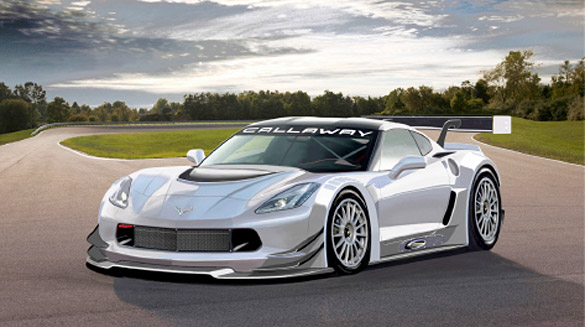 Our friends at CorvetteMotorsport.com are showing another teaser photo of the forthcoming C7 GT3 Callaway Corvette Stingray Racer that will make its debut in Europe in mid-2015.
Here's their post from Instagram:
Our exclusive Second "teaser" of our C7 GT3. Development work is underway at Callaway Competition in Germany, ahead of its debut during the 2015 season. Additional partnership opportunities have been recently made available to join this excellent programme. Interested inquires can be directed at [email protected]
Glad to see the GT3 program progressing. A previous teaser showed a picture of the LT1-R engine block.
Callaway is campaigning four C6-based Corvette Z06.R GT3s in the German ADAC GT Masters series. The C7 GT3 Callaway Corvette make a mid season debut in 2015 and then will be campaigned for the entire 2016 calendar.
You can follow the teams racing Corvettes in Europe at www.CorvetteMotorsports.com.

Source:
Corvette Motorsport on Instagram

Related:
Callaway Resumes Development of the GT3 C7 Corvette Racer
Callaway to Build C7-Based FIA GT3 Corvettes
[VIDEO] Callaway Debuts C7 Callaway Corvette at the Corvette Museum's Bash