Here's a couple of things you don't see every day – a Chrome C7 Corvette Stingray – and a wrecked Chrome C7 Corvette Stingray that crashed into one of those round barriers by some fuel pumps at a Shell Station.
I believe we've actually seen this Stingray before as it has been posted on social media numerous times. It's hard to miss a Chrome Stingray. For the driver, it was the gas station's fuel pumps that he just missed crashing into at this gas station in Marina Del Ray, California.
The word on the street is that a young Middle Eastern man was driving the car when it wrecked. We're not sure what that has to do with this crash other than it seems similar to last week's news reports of two middle easterners racing exotic sports cars in Beverly Hills.
Eye witnesses say that before coming to rest against one of the barriers that protect the fuel pumps, the Chrome C7 Stingray reportedly crashed into several other cars.
The damage the Corvette took is pretty severe with the front of the car completely mangled and it looks like there was major damage inside the engine compartment.
It's an accident that could have been much worse as the driver could have hit one of the fuel pumps directly, perhaps causing even a bigger specticle of a chome C7 Corvette Stingray on fire!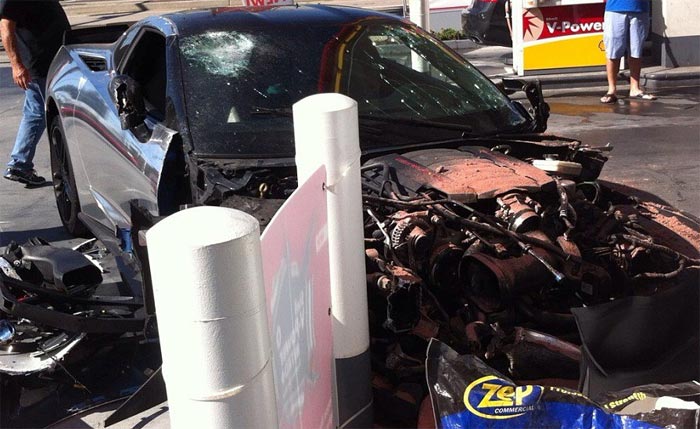 Source:
gtspirit.com

Related:
[ACCIDENT] C5 Corvette Wedges Under an SUV in Montana
[ACCIDENT] C7 Corvette Stingray Takes Out a Power Pole at Ice Creme Shop
[ACCIDENT] Corvette Stingray Wacked by Dodge Durango in Four Car Pile Up