We've always been impressed with the work that comes from German tuner GeigerCars who specialize in tuning American cars, but their latest work on a C7 Corvette Z06 may be among their best yet. The stock 650 horsepower Corvette is already a fantastic blank canvas straight from Bowling Green, but check out Geiger's power upgrades and the beautiful use of carbon fiber over the car as well.
Starting under the hood, Geiger pumps up the power to a formidable 730 horsepower and 944 Nm (torque). We're not sure how they get to those ratings but included is also a suspension upgrade kit which lowers ride height for better handling at speed and a sport exhaust system.
A new Aerodynamic styling kit was also added to the Laguna Blue Z06 and the shiny carbon fiber just oozes luxury. We particularly like the redesigned rear valence with diffuser and the new functional vents that replaced the stock vertical vents.The front grille has been removed leaving a gaping hole but the grille surround has been replaced with the same carbon fiber treatment. Even the front license plate holder is done in carbon fiber.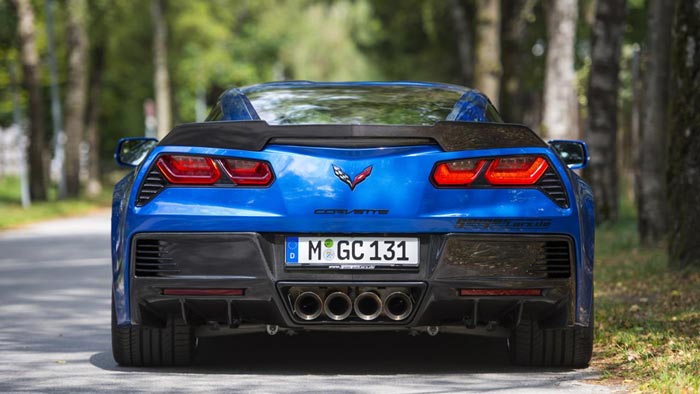 The interior of the Corvette Z06 looks to be free from any tuner-related upgrades and we were happy to see that the car keeps its stock black Corvette Z06 aluminum wheels wearing the Michelin Pilot Sport Cup 2 tires.
GeigerCars did post some pricing for the upgrades done to the Corvette Z06. The performance upgrades to 730 horsepower is listed at 2,990 Euro ($3,340 USD), the suspension upgrade was 5,500 Euro ($6,200 USD) and the carbon fiber aerodynamic upgrades will cost you 9,900 Euro ($11,061 USD). There is also an optional Sport Exhaust listed for 4,900 Euro ($5,474 USD).
Check out the gallery below featuring the GeigerCars Corvette Z06:

Source:
autoevolution.com

Related:
[PICS] German Tuner GeigerCars Goes for Whiteout Look on their Corvette Stingray
GeigerCars Adds Power and Sophistication to the C7 Corvette Stingray
German Tuner Geiger Goes to Work on the 2014 Corvette Stingray