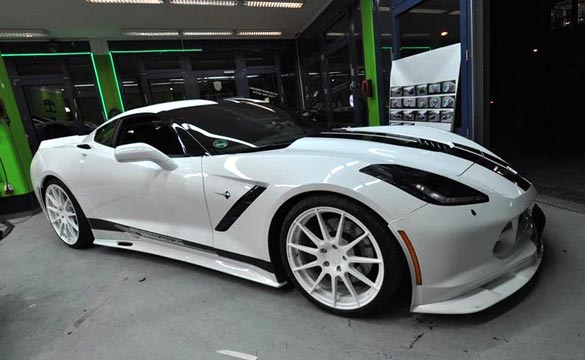 Here's another Corvette Stingray tuned and updated by GeigerCars of Germany. Geiger has been the go-to tuner for American cars in Europe and this new Corvette Stingray build might just be one of their best yet. Check out some pics of the new GeigerCars Corvette Stingray at the shop of their wrap partners Print Tech.
The Stingray has a completely new look with a custom aero kit. The front has a redesigned grill that appears to be smaller than the factory opening, but it doesn't make it into the pics for some reason. We can definitely see that huge new splitter on the front while the rocker panels are shaped to follow the contours of the Stingray's sides. The rear shows a new all-white fascia design with an aggressive look.
Some other aero upgrades include scoops on the rear vents for capturing more air for the transmission and rear-differential coolers and a taller-than-stock spoiler resides on the back of the car.
We assume that the Corvette Stingray is at Print Tech for some black highlights. The Corvette is finished all in white with the exception of the gloss black dual racing stripes which run from nose to tail. Along the bottom of the car is another black stripe featuring GeigerCars logo at the bottom of the doors. Eleven-spoke wheels in white complete the look.
While it's not mentioned if this Corvette is supercharged, we do know that GeigerCars offers an Eaton supercharger package designed to boost the 460 horsepower Corvette Stingray up to 590 horsepower. With an increase in the top speed of the Stingray to almost 200 mph, I'd say this Corvette is ready for trip down the autobahn.

Source:
Motorward.com

Related:
GeigerCars Adds Power and Sophistication to the C7 Corvette Stingray
German Tuner Geiger Goes to Work on the 2014 Corvette Stingray
German Tuner GeigerCars' 730hp Corvette ZR1