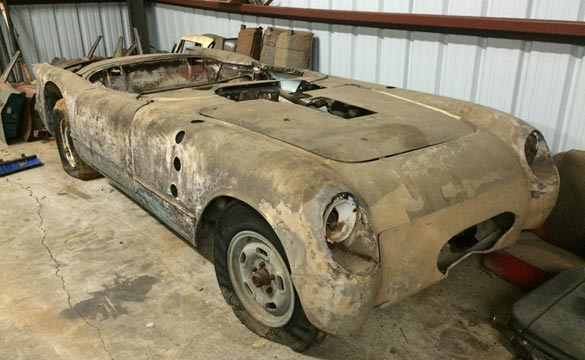 The high bid on this unusual 1954 Corvette has climbed to $7,300 on eBay as of Monday morning.
Is it a valuable piece of Corvette history, or just a chopped-to-pieces Corvette?
That's the question for the new owner to try and answer.
The seller says the 1954 is part of a collection of Corvettes and related parts that he purchased that had been stored in a barn since the early 1970s.
"It was sitting in the building in the condition that you see here," the seller says.
He believes that it was built and perhaps raced at Bonneville sometime in the late 1950s, though he has been unable to find any pictures of the car in race trim.
Clues to the car's past do seem to indicate that it was not your ordinary '54 Corvette, though again there is no proof.
The Corvette "has the holes cut in the fenders for the air to escape out of, the front brakes have air ducks (sic) built on them to keep them cool, the A arms must have holes in them to lighten them or to release the air pressure on them ," the seller says.
He believes that "some type of engineer" must have been involved "because the holes appear to be press cut or by some type of machine, almost as if the factory done it for some type of experiment (maybe a factory backed car?)."
The trunk lid has likewise been cut, perhaps to allow the installation of a parachute to slow the car down after trying to set a speed record, and the wheel wells have been cut to accommodate larger wheels.
It would be great if someone out there has proof of the car's past, wouldn't it?
"This car was certainly something back in the day," the seller believes, "and would be amazing back in race form."
The seller, Kody, in Irvington, Ala., says he'll be glad to answer any questions about the car at 251-454-5455.
We wish the new owner good luck in finding out more about this unusual Corvette and hope we'll be hearing more about it in the coming days.
The auction for this unusual 1954 Corvette ends on Wednesday at 2:26 pm ET.

Source:
eBay

Related:
Corvettes on eBay: A 'No Questions Answered' 1969 Baldwin Motion Corvette
Corvettes on eBay: Shriner Patrol's 1967 COPO Corvette
Corvettes on eBay: Package Deal of 11 Project C2 Corvette Sting Rays