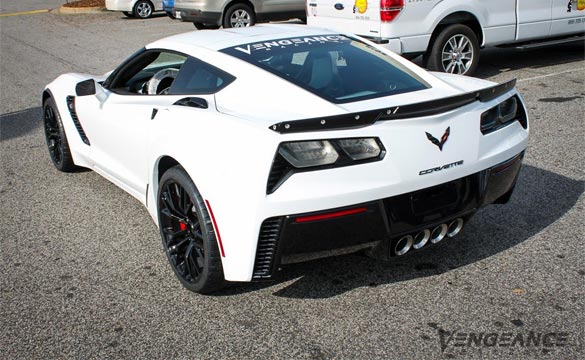 Last week an Arctic White Corvette Z06 was picked up by the guys from Vengeance Racing who proceeded to do a massive burnout in the dealer's lot before taking their new super car back to their shop in Cumming, GA.
Once the Z06 was safely ensconced in the tuner's garage, it was immediately placed on the dynojet to see what its baseline horsepower and torque numbers were.
Vengeance posted the dyno numbers on the Corvette Forum and it shows the new super car putting out an amazing 585 hp at the rear wheels along with 617 lb-ft of torque. Considering a standard average drivetrain loss of 15%, that mean's the Z06 was putting out around 688 hp and 725 lb-ft at the crank!
So was Chevy sandbagging with their official numbers of 650 hp and 650 lb-ft torque? The Forum conversation descends into discussion of the dyno's make (vs a Mustang dyno) and calibration along with weather conditions and the Corvette Z06's paltry 20 miles on the odometer. I think we'll have to get a few more Z06s on the dyno in various parts of the country to know for sure.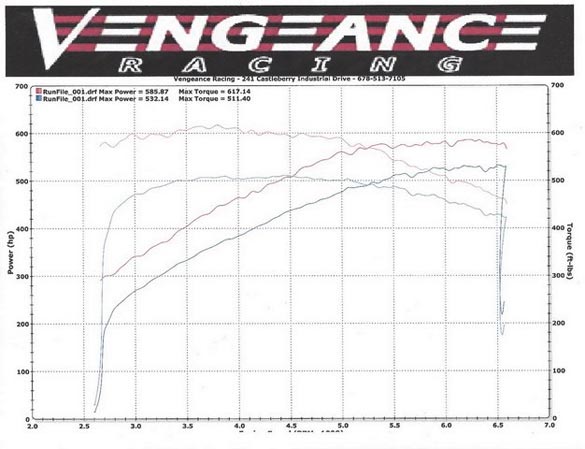 Just for comparison's sake, we went back in time to look at the first dyno of the 2009 Corvette ZR1. The C6 ZR1's LS9 supercharged V8 made 535 hp and 508 lb-ft of torque. When corrected at 15% driveline loss, we were very close to the 638 hp advertised.
Now that the tuners have their new Corvette Z06s, we'll be expecting to see these shops raise the bar in Z06 performance. Just check out the 1,000 hp Corvette Stingray completed by Vengeance Racing earlier this year!

Source:
Vegneance Racing and Motor Authority

Related:
[VIDEO] Guy Celebrates Delivery of His 2015 Corvette Z06 with an Epic Burnout at the Dealer
Vengeance Racing's 1,000 HP Corvette Stingray
2009 Corvette ZR1 Hits the Dyno