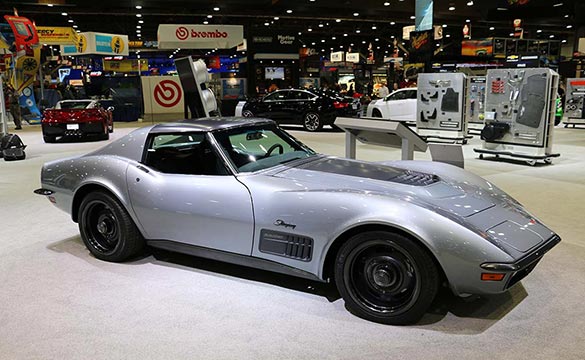 For this year's SEMA Show, Chevrolet collaborated with NASCAR racer Jimmie Johnson to personalize a classic 1971 Corvette which would feature a new LT1 crate engine from Chevrolet Performance as well as updates to the interior and exterior.
The 1971 Corvette was at the Chevrolet Design Studios in Warren Michigan when Johnson first saw the unrestored Stingray.
"The 1971… I just love older cars," says the 5-time NASCAR Champion. "Just the stance on that car, especially sitting behind the wheel, look up and see the big front fenders. That whole look is something that stands out to me."
The car's build started with the new LT1 crate engine available from Chevrolet Performance. The engine is offered with either a wet-sump or dry-sump versions and can be ordered with the electornic controller and harness as well as a front-end accessory drive system to support the integration of the engine into the build.
The LT1 was a tight fit into the 1971 Corvette's engine bay and the build team did have to do some custom modifications to make it fit.
The chassis was also given a make over with adjustable coil-over suspension replacing the original components for more precise handling while brakes from the track-proven C6 Corvette Z06 will provide exceptional stopping power.
"I really like to let the originality of the car kinda show through… that's just my style. I think the paint section were making is really going to give the car some depth and help the curves of the car show up and look real well sitting on display. And then powertrain. You know, it's going to be a sound fast responsive car, but a '71. which is pretty rad." says Johnson
The exterior of the 1971 Corvette was painted a unique silver-blue exterior color with a two-tone After Midnight dark silver trim accents and Satin Dark Android graphic accents.
On the inside, Johnson kept the original look of the car by selecting origins-style bucket seats in black leather with suede inserts. Johnson also selected a suede-wrapped three-spoke steering wheel and carbon fiber accents. Jimmie Johnson's signature is also featured on the floor console, door panels and seat backs. A plaque on the center console lists the specs of the 450-hp LT1.
"Jimmie Johnson is an enthusiast who has restored several classic Chevrolets and he knew exactly what he wanted – classic design supported by modern performance," said Jim Campbell, U.S. vice president, performance vehicles and motorsports.
Here's the Corvette parked on the SEMA show floor:
Here's a behind the scenes look at Jimmie Johnson's visit to the Chevrolet Design Studio in Warren, MI:

Source:
Chevrolet

Related:
[PICS] GM Reveals Restored 2009 Corvette ZR1 Blue Devil from NCM Sinkhole at SEMA
[PICS] Chevrolet Media Event Offers Preview of 2014 SEMA Vehicles
[VIDEO] Jimmie Johnson Driving Corvette Racing's C6.R