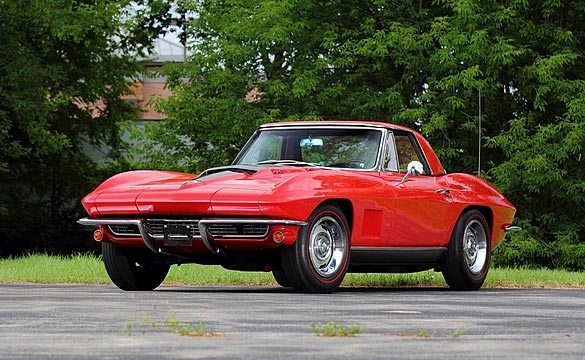 For many Corvette collectors, the 1967 Corvette with the 427/435 motor is the pinnacle.
If that's the case, then this '67 convertible that will be on the auction block in Dallas during Mecum's auction Sept. 3-6 is the pinnacle of the pinnacle!
This Rally Red convertible is about as close to walking onto a Chevy dealer's lot in 1967 as you may ever come. It's that original, featuring the original paint, interior, and top – all with just 18,688 miles on the odometer!
The list of awards for this car goes on and on. Naturally being so original, it earned Bloomington Gold Certified Survivor status in 2005, but that same year it also earned Bloomington Gold, NCRS Top Flight, Vette Fest Triple Crown, and Spinner Concours honors.
It's also one of less than 200 Corvettes to earn Bloomington Gold Benchmark Certification, considered the ultimate and most difficult to obtain standard for unrestored vehicles. That status requires an unrestored Corvette to reach Gold Certification and excel in all four categories of Survivor judging during the same weekend.
The car has the original non dot redline tires, rally wheels, and auxiliary hardtop. Of course, it goes without saying that the original L71 Tri-Power 427/435 V8 engine still resides under the hood, connected to the original heavy-duty Muncie 4-speed transmission.
We couldn't find an estimate on what this fine example of one of the most prized Corvettes ever produced is expected to bring on the auction block next month, but rest assured, you might want to bring two or three checkbooks with you to pay for this one.

Source:
Mecum

Related:
Tony DeLorenzo's Personal Triple Black 1969 L88 Corvettes Heads to Mecum Dallas
Terry Michaelis' NASCAR Corvette Wins Again
[PICS] The People, Organizations and Corvettes of Bloomington Gold's 2014 Great Hall