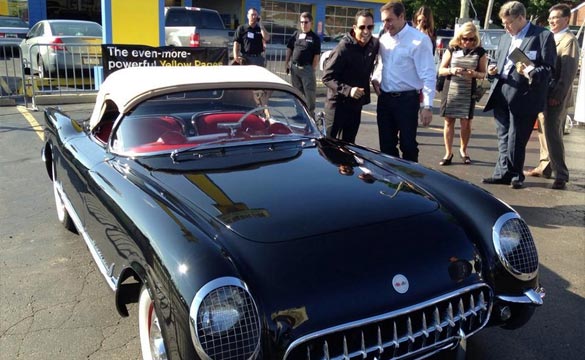 Photo Credit:
elcardenas on twitter
Mark Reuss had the honor of talking about the new C7 Corvette when it was unveiled to the world last year.
It's good to know that he likes classic Corvettes, too.
In fact, the GM head of global product development, purchasing and supply chain, was in Royal Oak, Michigan this week for the Woodward Dream Cruise, and he drove his 60-year-old 1954 Corvette to the annual event.
Reuss bought the car a year ago from the St.Louis Car Museum for a good deal because it needed some work.
"This is a beautiful car," Reuss said. "It's not a fast car."
He just finished the interior restoration a few weeks ago and even got some advice about a missing screw on his headlamp cover from IndyCar racer Helio Castroneves after a radio station Q&A this week at the Dream Cruise.
"I put in new seats, new carpet and all that," Reuss said. "I love doing that stuff."
Reuss said he doesn't pretend to know how to lay up fiberglass but does have some experience with the mechanicals.
"When we got it here, one of the cam lobes had worn off, so it wasn't opening the valves all the way," he explained. "The carburetors were interesting, and it was a 6V system that had been converted to a 12V starter. The electrical piece of it was not good, either. None of the dash lights worked. The Powerglide (transmission) is an old cast-iron Powerglide so there's lots of things, mechanical linkages that I had to replace."
Reuss was quick to point out that he didn't trailer his '54 to the Dream Cruise. "I drive that car," he said. "I drive all my cars. I will drive that up to Flint and do all that too, for Back to the Bricks (a Buick-sponsored classic-car event Aug. 12-16 in Flint, Michigan)."
You can tell he has a respect for his classic Corvette.
"I love the car, the way it makes me feel," he said. "I'm not a big hot rodder. It's really hard for me intellectually to take a car that I know was put into production and do something like that to it, because I know what it took to get there. It's hard. This is a hard business.
"So that car – I know what happened in the company when it was being done. This is the first American sports car. It started it all. Ed Cole (former chief engineer and later GM president) and those guys put that car together and got it into production – all that history. I get to touch it.
And I get to ride in it, and I get to drive it because I couldn't experience it."
He sums up his feelings well when he concludes, "So for me, it's pretty amazing when I go out to the garage."
Photo Credit:
elcardenas on twitter

Source:
wardsauto.com and Detroit News
Photo Credits: elcardenas on twitter
Related:
[PICS] The 2014 Corvettes on Woodward Food Drive
[VIDEO] Indy Car Driver Helio Castroneves Cruises Detroit's Woodward Avenue in a 2014 Corvette Stingray
Michigan's Fantasy Week for Corvette Enthusiasts