On Wednesday we participated in yet another edition of the annual Corvettes on Woodward charity food drive. Hundreds of Corvettes gathered to support the Open Hands Food Pantry in Royal Oak, MI. Each year the get together takes place on the Wednesday night prior to the Woodward Dream Cruise and has developed into the main event in what is now a 3-day celebration of Corvette and cars in general.
Corvettes on Woodward is one of the premiere events each around metro Detroit. There's no judging or awards. Just good people with a common interest getting together to help those in need. It's laid back event in the middle of Michigan's Fantasy week for Corvette enthusiasts.
The event began with 75 cars in its first year and is now a multiday celebration of Corvettes and cars in general. Satellite events for 2014 once again included tours of GM Heritage Center, Katech Performance, the Lingenfelter Collection, and the Stahl Automotive Museum. New this year was a tour of the Morley Chocolate factory. Corvettes AND chocolate? Yes, please. Just don't eat it in the car.
Cars began staging around noon at the Radisson hotel in Bloomfield Hills. The turnout was steady over the course of the day and picked up slightly as the after work crowd arrived. Admittedly attendance was down this year likely due to the recent storms in the area which caused rampant flooding and road closures. We pretty certain many folks were still tending to issues at home. We look forward to seeing an even bigger event next year. Just after 7pm the engines began to fire and everyone headed out onto historic Woodward Avenue to begin their southward journey to the food bank.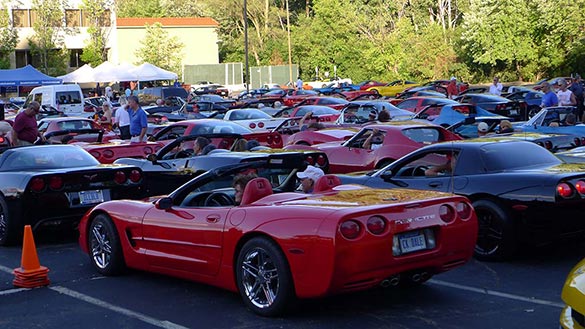 Once again the Corvettes on Woodward food drive was a successful event. As usual organizer Larry Courtney, the Radisson staff, and a cast of volunteers put together a first class event. If you're ever planning a trip to the Motor City for the Woodward Dream Cruise, be sure to arrive a few days early to participate in all of the Corvettes on Woodward activities. You won't be disappointed.
If you'd like to help support the Open Hands Food Pantry you can visit their website to see what they need most. Meanwhile enjoy our gallery from the 2014 Corvettes on Woodward event below.

Related:
[VIDEO] Indy Car Driver Helio Castroneves Cruises Detroit's Woodward Avenue in a 2014 Corvette Stingray
Would You Like to Own a CorvetteBlogger's 1972 LT-1 Corvette Coupe?
Michigan's Fantasy Week for Corvette Enthusiasts