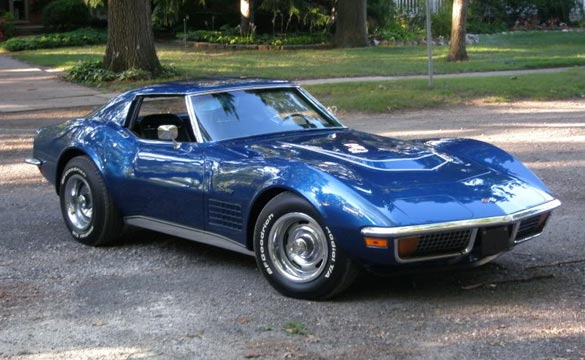 Up for sale at VetteFinders.com is a 1972 LT-1 Corvette Coupe that is currently owned by our own Steve Burns who heads up CorvetteBlogger's Detroit Bureau. Steve owns two Corvettes, the Blue 1972 LT-1 and a Cyber Gray 2009 Corvette recently featured in [Operation Air Flow], but recent family additions mean that two Corvettes is one too many, so the LT-1 has got to go.
Steve's 1972 LT-1 has been featured several times on CorvetteBlogger.com and he would drive the car to the various shows around the Detroit area including the Woodward Dream Cruise, Canterbury Village and EyesOn Design. Check out this post from 2012 where he documented the flight judging of the Corvette at a Michigan NCRS meet.
Here's the details of the car:
1972 LT-1 Coupe (1 of 1,741). 45,000 original miles. Body on restored in the late 80's and used sparingly ever since. NCRS Top Flight in June 2012, matching numbers, Targa Blue with black vinyl interior. M21 4-speed, 4:11 rear end (1 of 363), PS, PB, AM/FM Stereo, rally wheels with BFG radials. Nice, correct real LT-1.
Exterior: 1 lacquer repaint in the late 80's in correct Targa Blue. Has a few minor stones chips along with the usual lacquer cracks in the usual places. Original date coded correct glass. Overall 9/10.
Interior: All original except for the battery, seats, front carpet, and clock which has been converted to quartz. Overall 9/10.
Mechanical: Matching numbers engine and transmission. Motor and tranny have never been apart or out of the car. Most all correct items/fasteners including AIR system, original alternator, intake, ignition shielding, Overall 8.5 / 10.
Chassis: Mostly original and unrestored with undercoating remaining in spots. Overall condition and patina is consistent with its age. Stainless steel exhaust, replacement rear spring and 4 shocks. Original spare. Overall 8/10.
Operations: Everything works except the alarm, glove box lock, and heater control/well lights.
Documentation: complete owner history including copies of all titles since new, NCRS Shipping Data Report, hundreds of receipts and photos back to 1987, and NCRS judging sheets. All docs included with car. Judging sheets, photos, and component date codes are available electronically for review.
Price: $39,900
If you're interested in the Corvette, you can contact Steve using the contact form under his ad at VetteFinders.

Source:
VetteFinders.com

Related:
My Day at a NCRS Judging Meet
[Operation Air Flow] Episode 1: CORSA Carbon Fiber Intake Install
[PICS] The 2014 Bloomington Gold Corvette Show