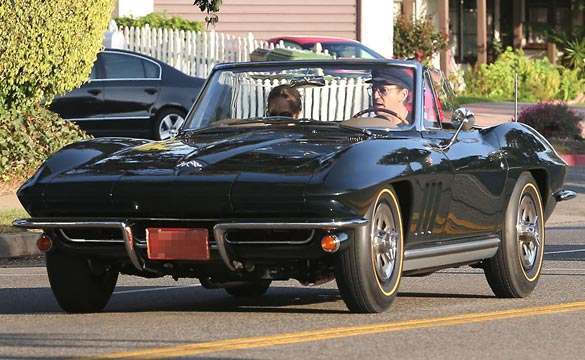 In the Iron Man movie franchise, Billionaire Tony Stark is known for driving Audi's.
But in the real world, the actor who plays Tony Stark prefers fiberglass.
At least that was the case on Sunday when Robert Downey Jr. and his wife Susan were spotted enjoying the nice Southern California weather yesterday with a drive in the Downey's 1965 Corvette Sting Ray Convertible.
Although the posts I've seen on the car describe it as a 1967, we believe this is actually a 1965 Sting Ray based on the 3-vent layout on the fender and the fact that we do not see a "Corvette" emblem on the bottom right of the hood. The third place a spotter would look is the front grill, but it's took dark to tell if it is a straight finned (a '65) or egg crate (a '66) design.
Regardless of the actual year, the Corvette looks to be set up as an original car would have been with those skinny 7.75 x 15″ goldline tires. The Glen Green paint looks sharp and we bet that the small block Chevy under the hood just purrs as well.
Click the image to view a larger version:
Robert Downey Jr. and Susan Downey take their 1967 Corvette out for a spin in Pacific Palisades, CA – 2/16/14
Iron Man isn't the only A-lister in Hollywood who likes Corvettes. Check out more Corvette-driving celebrities.

Source:
Tumblr

Related:
[VIDEO] Paul McCartney's C5 Corvette Gets The VIP Treatment at LAX
SEMA 2012: Guy Fieri's Custom 427 Convertible Corvette
[PICS] George Clooney and His Little Red Corvette