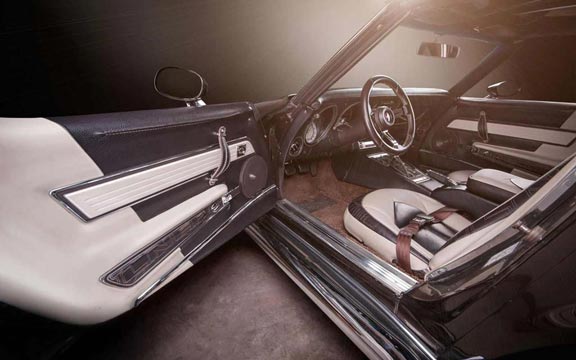 The C7 isn't the only Stingray getting an interior makeover these days.
Take a look, for example, at this 1976 Corvette Stingray that has been updated with upgrades inside, outside, and under the hood by Bulgarian interior specialist Vilner.
Vilner has reworked the instrumentation and added the nice touch of contrasting stitching on the leather dash, not to mention covering the seats with comfortable-looking calf-nappa leather. They replaced the factory wood elements of the interior with Corian, made from acrylic polymer and alumina trihydrate and also upgraded the sound system with three amps and a three-band front system from Ground Zero.
Of course, we have a feeling that the radio won't be the only thing providing some wonderful sounds in this car as Vilner added a new head, shafts, and two twin carbs from Edelbrock to the V8 5.7-liter engine to raise the horsepower to 300.
Outside, the touch we like the most is the trunk – a real trunk that sits atop the luggage rack on the back of the Stingray. You'll also see beautiful pearl brown paint and leather-wrapped targa roof trim with decorative stitching.
Since we are living in the 21st century now, Vilner also added some safety features of our time, including daytime running lights and new turn signals, along with LED taillights.

Source:
worldcarfans.com

Related:
[VIDEO] Corvette vs Corvette in the 2013 Goodguys AutoCross Finals
[VIDEO] Classic 1969 Corvette Back on the Road After Being Flooded by Superstorm Sandy
[PIC] Throwback Thursday: Beauties Parade at the Dragstrip