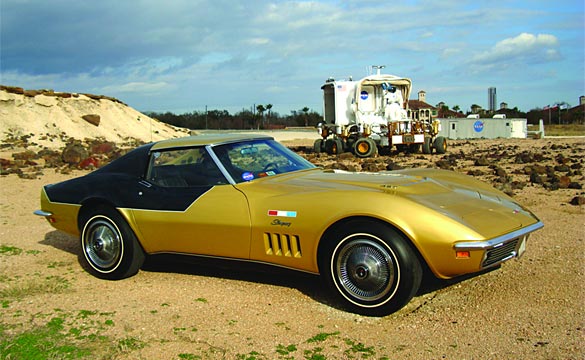 We've all heard of the AstroVentilation that was used to keep passengers cool in the 1960s and 1970s, sort of a poor man's air conditioner. But Austin Reed of Texas has an "AstroVette."
His unusual 1969 Corvette originally belonged to astronaut Alan Bean – the fourth man to walk on the moon nearly 44 years ago – and will be on display Sept. 28-29 at the Corvette Chevy Expo at the Dallas Market Hall.
In those days, Chevy would lease a Corvette to an astronaut for just a buck a year to try and stir interest in the car. The cheap lease was a way around a ban on product endorsements by astronauts; how could it be illegal for an astronaut to just drive a Corvette, wink, wink? Chevy hoped for guilt by association in a good way.
The Apollo XII crew – the second group of astronauts to walk on the moon – received three such Corvettes, which each carried a big block 390hp V8 and had a special paint job design in Riverside Gold and Black.
Sadly, Reed's car is believed to be the only one that has survived.
Each triplet had a different emblem – featuring either red, white, or blue – to denote each astronaut. For example, Bean's car had an emblem that contains the initials "LMP" (Lunar Module Pilot) inside the blue part of the logo. Commander Pete Conrad's car had a red emblem with CDR, and Richard Gordon Jr., had CMP (Command Module Pilot) inside the white part of the logo.
Also being featured at the Dallas show later this month will be the all-new 2014 Corvette Stingray, along with a fine collection of classic Chevrolets, including matching-numbers Chevys, Tri-Fives, Resto-Mods, Pro-Classics, Vette-Rods, G-Machines, and Custom Trucks.
The show is open 9 a.m. to 7 p.m. Saturday, Sept. 28 and cranks up again on Sunday at 9 a.m. The Miss Corvette Chevy Expo bikini contest begins at 3 p.m.

Source:
Corvette Chevy Expo

Related:
Preservation Expert Eric Gill to Lead Restoration of Neil Armstrong's 1967 Corvette
Gus Grissom's 1967 427 Corvette Sells at Russo & Steele
Corvettes and Astronauts Celebrate 50 Years Together